A group of 1,286 students arrived yesterday from quake-hit Dujiangyan City of Sichuan Province to study in Shanghai's 24 vocational schools.
"We spend 38 hours on the train, while I kept wondering what Shanghai looks like. I'm very excited about studying for the next three years," said Xuan Chun, a 15-year-old student who graduated from Juyuan Middle School.
Majoring in computer numerical control, Xuan's wish was to work hard at Shanghai Architectural Engineering School in Xuhui District, and to find a job after graduation.
While 526 of the students maintain their original majors, 760 freshmen have been assigned 30 key majors by the schools, covering processing, manufacturing and the service industry.
"The majors have been selected to cover the demand for talent to rebuild Dujiangyan, students' requirements and Shanghai's talent shortage," said Wang Xiangqun, chief of vocational education at Shanghai Education Commission. "For those who are willing to work in Shanghai after graduation, job aid will be provided."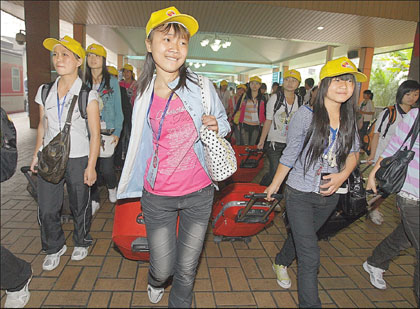 Students from quake-affected Dujiangyan City of Sichuan Province arrive at Shanghai Railway Station yesterday. They will study at vocational schools. 
Wen Yanqi, a 16-year-old girl, said it was a challenge for her to take logistics as her major at Shanghai Donghui Vocational School.
"I'm touched by Shanghai government's support for us, otherwise we wouldn't have the opportunity to study here."
They will receive Shanghai Education Commission certificates after they complete their studies but won't be able to take college entrance examinations in the city.
Every year, each student will receive a tuition subsidy of 4,000 yuan (US$584), 500 yuan for books and a grant of 1,000 yuan. With free accommodation, students living below the poverty line will receive a daily 17-yuan subsidy, and the others will receive 10 yuan a day.
"From the moment they stepped onto the train, Shanghai has been their second home," Wang said. "We will cultivate these students into skillful talent."
(Shanghai Daily September 1, 2008)