Shanghai's St Patrick's Day Parade is expected to be the biggest in China to date and during Ireland Week from March 7 to 15, everybody's Irish.
Shanghai and Cork are sister cities. Currently there are about 500 Irish people living in the city, according to the statistics from the Irish consulate in Shanghai.
Try the Emerald Isle's literature, music and dance, its humor and Irish whisky. Check out tourism deals.
Though the big parade is staged early on the weekend before the day proper, the 17th, bartenders will be busy till the wee hours of Wednesday, the 18th, the day after.
Now in its third year, the Irish Week promises more arts and literature events, as well as family fun. Events will be staged around town, including at the Central Plaza in People's Square and Shanghai Times Square on Huaihai Road M.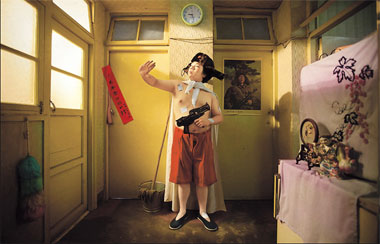 A photographic work by Maleonn Ma at the "Fables" exhibition. [Shanghai Daily]
It is sponsored by the Consulate General of Ireland in Shanghai with the assistance of Tourism Ireland and the local Irish Community.
It goes without saying there will be plenty of stout, Irish coffee, Bailey's, whisky and green beer.
Irish and Chinese artists have been cooperating in exchanges and their work will be shown at three exhibitions.
The opening ceremony on March 7 will take place at the Don Gallery with the launch of the "Fables" exhibition. Photographs by contemporary Irish and Chinese photographers will be on display until March 29. The exhibition was well-received in Ireland.
At Shanghai Times Square, "Drawing Eire" is a collection of around 100 drawings of Irish life (sketched or collected by) the Shanghai-based couple, James Ryan and Jia Lechen.
On Friday, Varvara Shavrova's photo exhibition titled "Untouched" will be launched at the Central Plaza in People's Square. The black-and-white photographs capture vanishing scenes in the fast-changing city.
During the week at the Yandang Road main stage, visitors can enjoy traditional Irish music and dance. Tourism Ireland will show short videos and distribute information.
On March 14, the St Patrick's Day parade steps off at 10:30am at the south entrance of Fuxing Park on Yandang Road.
Shamrock-covered "green dragons" and two "Celtic tigers" will rush along the parade route, joined by 20 groups of dancers, musicians, marching bands, sporting groups, university students and company representatives.
Once the parade reaches the intersection of Huaihai and Yandang roads, there will be a stage show by Irish and Chinese children, students and adults, as well as a professional performance group.
Ireland Week T-shirts will be available, kids can have their faces painted green, and grown-ups can enjoy Irish stout.
Eoin Murphy, president of Le Cheile, the Irish Community Association in Shanghai, expects this year's parade to be the biggest and best of them all.
"Ireland Week and the St Patrick's parade enable us to bring the whole Irish Community together and celebrate our wonderful culture and heritage with the people of our welcoming host city, Shanghai," Murphy says.
Poetry lovers can go to M on the Bund on the afternoons of March 14-15 and hear readings by Pat Cotter and Colm McCarthy, visiting Shanghai from its Irish sister city, Cork.
Ireland Week will also be celebrated at Fudan and Shanghai Normal universities. Students will form dancing groups and take lessons.
According to Conor O'Riordan, Ireland's consul general in Shanghai, the week is part of a unique global phenomenon in which Irish communities around the world publicly celebrate with immense pride in their national heritage and culture.
"The Irish are not people to celebrate alone, and we invite the people of Shanghai to join us and in doing so they can learn more about Ireland and its people; the Irish and Chinese people have a lot in common," O'Riordan says.
For more detailed information on event schedules, special offers and pictures, please consult the Irish Community's Website, www.lecheileshanghai.com and www.discoverireland.com.
(Shanghai Daily February 27, 2009)