Joanna Jiang, 25, gives a sigh of relief because she wasn't one of the 30 people axed at the major US entertainment and media company where she works in public relations. These are gloomy times.
Like most foreign-invested companies, Jiang's company has been squeezed by the global financial crisis. About 600 employees above director level were laid off at US headquarters, and the China branch in Shanghai cut around 30 positions earlier this year. The staff now totals around 250.
Gloom and uncertainty pervaded the office for the past two months. People are still anxious. There's not much chit-chat and joking anymore.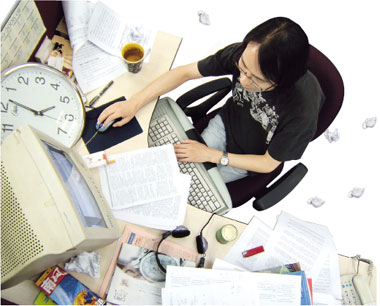 With the global financial crisis getting more serious, many white collars begin to feel the pressure and work even harder in hope of keeping their jobs. [Shanghai Daily] 
Although Jiang's department is working an important six-year project and she was unlikely to lose her job, she feels the situation is still precarious.
"Nobody knows what the boss really thinks; the bomb can explode on anybody before the cuts are finished," says Jiang.
When the financial crisis first reached China, many white collars believed they would keep their jobs if they worked hard, did well and had a good relationship with the boss. Now, however, they have witnessed big companies, especially foreign-invested firms, firing large numbers of people, and they have heard their own friends' sad stories of losing their jobs and struggling to stay afloat.
The pressure is on.
In January an online survey was launched by the monthly Chinese magazine Psychologies, together with self-help survey Website Taidu 8.com, on the crisis' psychological impact.
Back then, more than 56 percent were concerned, while more than 43 percent were fairly confident. The magazine reported 17.8 percent of respondents saying, "The crisis is still far from me; I won't have the same bad luck as others." Another 25.8 percent of those surveyed said they could survive the crisis because "I am always lucky."
This month, however, more than 70 percent of people surveyed online said they really feel the pressure of the crisis. The magazine did not report numbers, but experts say the results are indicative of what's going on.
Most people used to believe in a "psychological contract" - hard work and good relations with management would be rewarded, says Dr Tan Honggang, head of the Psychology Department at Peking University. He was commenting on the magazine survey.
"That's why they believed they could survive the crisis," he says. "But now they are seeing real cases. People see their colleagues being called into the office and then having to pack up and leave." That causes anxiety and fear, he says.
Jiang says that in January and February when cuts were underway, everybody kept banging away at their computers or other work, nobody chatted or laughed as they used to.
They all wanted to be seen by the boss as outstanding workers who were too precious to fire.
"It is torture to wait for your final job sentence, while there's nothing you can do about it," says Jiang.
Mary Yang who works in the same company's sales department suffers from insomnia.
"I cannot fully concentrate on work though I forced myself at my desk," says Yang. "I cannot help trying to overhear everything happening in the office."
The cuts are over in that company, for now.
But many people are still going through the torture of waiting.
Kelly Wang, 27, is anxious and distressed, too blue to hang out with friends. She has been an intern in the human resources department of a US-owned IT company since last year.
She assumed that after graduation with her master's degree in psychology, she would get a full-time job.
Two weeks ago she was told the entire branch office would be closed within a year.
"Everything went so well at first. It's astonishing to see the sudden sharp turn," says Wang. "I'm in no mood to do anything now."
In a few days, she's taking some time off and traveling with her cousin. She hopes that will cheer her up.
According to Dr Tan, critical events can shatter certain long-held beliefs (hard work equals security and advancement) and upset people's understanding of the world and their place in it.
"They may lose confidence and start doubting themselves and the world," he says. In extreme cases, they may verge on psychological collapse.
As one's psychological state is closely related with the changing environment, anxiety and depression are natural in this ongoing crisis with no clear end in sight, says Professor Sang Biao, deputy director of the Psychology Department of East China Normal University.
But how you view it and deal with it can make the tough time a little better, he says.
"Fear is common, but the issue is whether you can turn that fear into a power or action to help you move on. That can lead you to a different outcome," says Sang.
Facing the problem, identifying your strengths and weaknesses, adapting yourself and looking for alternatives (other jobs or activities) is a much more positive way to deal with a career crisis. Don't wait for the job ax to fall.
Kevin Xiang, who owns a small advertising company, is handling his problems constructively. The 27-year-old started his tiny company of four employees in early 2008, half a year before the crisis hit.
He feels the pressure of fewer customers, fewer ads and smaller ads.
"There are always ways to advertise, though quality varies with money," says Xiang.
To cut cost, he moved his studio from downtown Jiangsu Road out to suburban Jiading District where rent is much cheaper. And, as customers' budgets are smaller, he suggests less expensive advertising may be less cool but still adequate.
Xiang says that he planned well in advance and was prepared for three to four years without profits, even before the financial crisis. He plans to ride it out.
"Nietzsche says that which doesn't kill you makes you stronger," says Xiang. "I am doing what I want to do and what I am good at. I'm not the only one who is suffering in this crisis.
"As long as I can survive, I'm a winner," he finishes.
Suggestions from expert
Keep working hard while looking for another job.
Assess your strengths and weaknesses.
Lower your expectations and try other fields.
Have fun. Take part in sports, singing or take a trip.
Share concerns with those close to you. Support of family and friends can help boost confidence.
(Shanghai Daily March 17, 2009)