Patrons of the various food joints and watering holes around town are invariably subject to that unavoidable question - where is the best this or that around town?
For many, there is almost an obsession with finding the best of the best, the creme de la creme, almost as if spending even a second of their precious time on anything other than the universally lauded champion would be a crime against humanity.
And why not, then? Given the finite time we have to walk this earth, why should anyone expend that extra modicum of energy required to physically devour or imbibe second best? Why should they have to put up with the insecurity that their tastes may not be as sharp and pronounced as the next guy's? In fact, why waste any of the planet's precious resources producing the first loser?
You can almost apply this principle to all facets of our imperfect lives. Punters can log on to the Interwebs and vote for the best T-shirts, the best jeans, and the best names we can pick for our children. Life would be just perfect if we all could just call ourselves Bob.
Understandably, I was rather skeptical when embarking on a burger crawl last Saturday with a ragtag mob known as the Shanghai Drinking and Tasting Crawl Assn. This was going to be a huge slice of Americana forced down my throat, I thought, an exercise in rah-rah pack mentality that the world's foremost industrial nation was going to civilize the world, one burger at a time.
I couldn't have been further from the truth. The group of 21 - which later swelled to 25 as the day wore on - assembled at Big Bamboo Nanyang at 11:30am for a grueling day of hamburgers and beer.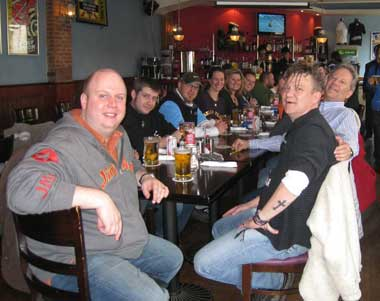 A group of people gather together for a grueling day of hamburgers and beer so as to find the best burger in Shanghai. [Shanghai Daily]
The outing, which comes on the heels of well-received rib and taco crawls, was organized by American Chris Kelley. The 30-year-old is active on the expat scene, and is more than willing to take the initiative in these things.
"I organized the first (rib) crawl, and because I speak Chinese and can book the vans and stuff, I got hooked into organizing stuff."
The mood among the informal crew that morning was jovial, jolly and friendly. There was no air of superiority from anyone, no know-it-all expounding on the seven holy steps to making a good burger: Merely an air of excitement, not because they were going to answer the question once and for all, but because everyone was going to have a whole bunch of fun in the process. Oh, and there was also a feeling of "we're going to get hammered." The cooler full of Budweiser and Jagermeister was an ominous sign: It would later prove to be our undoing.
The burgers were judged on meat temperature (how done they were), juiciness, bun, freshness of vegetables and overall flavor, with these scores tallied for a total. The places were also judged separately on general atmosphere - whether they were great venues for a burger and a beer.
The tour, limited to Puxi, took us from Bamboo to Malone's, then to Blue Frog, Pinnacle Peak (a newly opened steakhouse on Shaanxi Road N.), O'Malley's, the Eager Beaver and Bubba's in Hongqiao.
The final results were rather surprising, at least to this reporter. Tallied by Kelley, his girlfriend and chef Brad Turley, who showed up on the last leg of the tour and brought some much-needed sobriety to proceedings, the best burgers were judged to be at Pinnacle Peak, followed by Blue Frog and the Beaver.
Best venue of the day also went to Pinnacle Peak, with its Wild West saloon - complete with mechanical bull (incidentally, people only look good riding the thing if they're Kylie Minogue. Or in their knickers. Or preferably, both).
Was this irrefutable proof of the existence of the perfect burger? Far from it. Should the losers commit hara-kiri for their failure to impress the panel. No, no and no. The day's experiment was far from watertight, hardly scientific and dominated by a single ethnic group, although if there's anyone who would know a thing or two about burgers, it is the world's most obese nation.
What the day delivered, however, was great fun, and a great opportunity to visit some spots one wouldn't ordinarily go to. It was fun to see the venues bring their A-game to the fold, even better to hear the group crack jokes about each offering along the way.
Ultimately the crawl taught two very important lessons - that an abundance of spirits can have detrimental effects on my balance, and plain hamburgers are as boring as my columns. It would be a good idea to remember both.
(Shanghai Daily February 27, 2009)