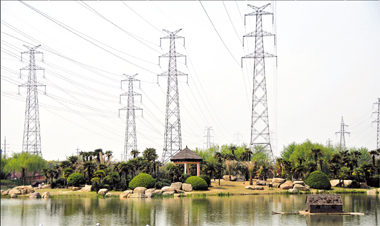 Minhang District has created three public gardens in the 400,000 square meters under high-tension wires in the 3.5-square-kilometer Technological Development Zone. [Shanghai Daily]
Every inch of Shanghai real estate is valuable and that goes for the unused land beneath the pylons carrying the city's electricity. It's a no-go zone for housing, commercial use and manufacturing. It needn't be an eyesore and a junk yard.
Minhang District, mindful of real estate value, has created three public gardens in the 400,000 square meters under high-tension wires in the 3.5-square-kilometer Technological Development Zone.
It's the city's smallest such zone but one of the first to develop the land under the power lines in a big and people-friendly way. People go there on weekends and employees enjoy it on lunch breaks.
Birds visit as well, lured by the greenery to build their nests in trees, not in the pylons.
Creating usable green space under high-tension lines is becoming part of the city's over all green planning.
For almost 14 years, the 2,000-meter-by-400-meter corridor under the pylons was abandoned by city planners because most construction was banned safety reasons.
People dumped rubbish there, raised pigs, ducks and chickens, planted vegetables, created ponds, put up shabby structures and generally made a mess of the area.
But economics came into play. National law requires that development zones maintain no less than 30 percent green space.
Turning that waste land under the power lines into green space would kill two birds with one stone - help satisfy the legal green space requirement and improve the ecology and living environment. That leaves more land for development that earns money.
Other parts of the city are studying Minhang's high-voltage greening success and considering their own pylons.
"Everybody knows that every inch of land in Shanghai is worth an inch of gold," say Qin Yong, vice director of the General Office of the Shanghai Minhang Economic and Technological Development Zone. "And this is especially true in our zone, where almost every inch of land is fully used today."
Today the former waste land is an ecological park of three gardens, an enterprise garden, a wetland garden and an agricultural garden.
In the enterprise garden, people are at work tending the tree seedlings for most of the greening projects in Minhang District. The wetland and water plant garden features a man-made pond and a multi-species ecosystem. Ducks, geese, and other birds are raised there. You can spot grebes and other water birds.
The 2,800-square-meter Oriental Cherry Garden has, in addition to cherries, more than 100 Japanese fuchsia flowers blooming there. There are scarlet pomegranate blossoms, yulan (magnolias) and multicolored pond lilies and lotus. It's always colorful.
Many employees from nearby enterprises stroll in the garden during lunch time. To 27-year-old accountant Laura Li, it's relaxing to move about in the greenery. Some companies have picnics in the garden and use the space for team building exercises.
Creating a green belt under high-tension power lines is the best way to use the land, says Kevin Peng who works in the Public Green Area Department of the Shanghai City Appearance and Greening Bureau.
Since most of the big power lines radiate out from urban areas to surrounding areas, turning these areas into usable green space can insert wedge-shaped green spaces throughout Shanghai, says Peng. The only concern is selection of trees that don't grow too high.
National regulations state that no structures should be built under the transmission towers in order to protect the wires and ensure that facilities run properly.
"Leaving the land discarded, of course, is a huge waste for cites with limited land resources like Shanghai," says Peng.
The beautiful green corridor would have been hard to imagine some 23 years ago when the Minhang Economic and Technological Zone was set up. Residents were relocated but there was no plan to use the land beneath the wires.
So the unregulated land became a place for people to raise livestock and dump their junk.
In 2000, officials of the development zone decided to consolidate all the little gardens and lawns near buildings and workshops - and move them under the power lines. That left more space for economic development.
The district invested 70 million yuan (US$10.2 million) and the project was completed in 2004. It increased the zone's per capita green space from 20 square meters to 29 square meters.
Maintenance costs around 100,000 yuan a year, but it's more cost-effective than maintaining the smaller scattered green areas, say officials in the zone. Larger gardens enable more creative landscaping with more species.
The attractive greenery for nesting may also lure birds like magpies from nesting on high-tension power lines, according to Wang Jiyi of the Shanghai Wild Bird Society.
(Shanghai Daily June 9, 2009)