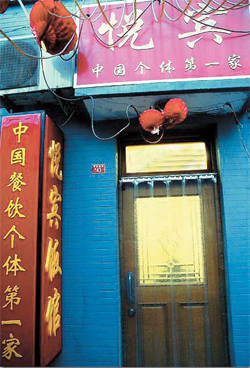 Yuebin (Pleasing Guests) restaurant in Beijing, a pioneer in China's 30 years of reform and opening up, is dedicated to serving quality food for grassroots folks.
In a shabby hutong the simple Yuebin (Pleasing Guests) restaurant is a landmark in Beijing and a pioneer in China's 30 years of reform and opening up.
China is filled with private restaurants, but this one in Beijing is widely believed to be the very first - and the most publicized - since the "cultural revolution" (1966-1976) ended.
It never occurred to owner Guo Peiji that the opening of Yuebin in 1980 would reverberate throughout China for many years to come. It was recognized as important a milestone in the changing economy and society as Xiaogang Village in Anhui Province, which introduced household land-contracting in 1978 when collective farming prevailed.
Guo, who had worked as a chef in state-owned hotels, enterprises and government organizations, decided to make a dramatic change of life in the autumn of 1980.
"My wife, Liu Guixian, and I were considering opening a restaurant of our own, as it was hard to maintain a living for a big family," recalls the 76-year-old Guo, sipping a cup of jasmine tea and sitting in an old-fashioned wooden armchair.
A father of five sons and one daughter, Guo found it difficult to find jobs for his two youngest sons after they graduated from senior high school.
"I was neither manager nor official, and without wealth or influence," he says. "By opening a restaurant, I guaranteed them a living, at least."
At that time, there were only a very few cafeterias in Beijing, owned and operated by the state. The market supply was haphazard, and daily necessities and food were mainly distributed through coupons or stamps.
The outspoken Liu resigned from her "iron-rice bowl" at a research institute affiliated to the State Administration of Environmental Protection and put her heart and soul in the brand-new business.
It went smoothly in the beginning. "To my surprise, my work unit, the Beijing Motor Factory, supported me by sending a truck loaded with tables and chairs," says Guo.
Even more exciting was that Cuihua hutong was packed with people on the eatery's opening day. Guo recalls, "I had never seen such a large crowd, except in Dashilan (a well-known business district in the old town of Beijing). I could hardly push my bicycle into the narrow lane."
The couple set reasonable prices. Customers paid less than one yuan for a fancy meal consisting of a meat dish, a vegetable dish and a bowl of rice.
"Yuebin quickly became a magnet in Beijing, attracting people from all walks of life," says Guo.
The tiny restaurant signaled a significant social transformation and the beginning of personal wealth. When the family finished the first day of business, they were happy with their takings of 38 yuan, equivalent to the monthly income of a senior worker at that time.
Controversy
In a short time, Yuebin's name spread around the diplomatic missions in Beijing. One day, a US diplomat requested a meal worth 10 yuan, 10 times more expensive than the standard order.
"We searched the whole market for duck and turtle, and we made it," Guo says.
Satisfied, the American drew dozens of maps showing Yuebin and distributed them in diplomatic circles.
As the Chinese saying goes, "The gun aims at the leading sparrow." Guo's business ran into "political trouble," a problem feared by most Chinese in the early 1980s. Guo remembers, "People gossiped behind my back and depicted me as 'a daring vanguard of capitalism'."
Since the People's Republic of China was proclaimed in 1949, the country had steadfastly followed an economic path of state or public ownership and firmly opposed the idea of private property.
A national newspaper even published an editorial criticizing Yuebin. "It is inappropriate to operate private business in a socialist country like China," it said, toeing an inflexible line.
Guo says, "I didn't think too much of the discussions or reports. I'm not the type of 'capitalist' who has an insatiable desire to expand business. I care about doing my work with sincerity and satisfying the appetite of my customers. It's that simple."
The turning point came when the sons of several state politicians showed up for a dinner. One of them was Deng Pufang, the eldest son of Deng Xiaoping, widely regarded as the chief designer of China's reform and opening-up initiatives.
"They talked with warmth: 'Auntie, we came to support you and your restaurant'," recalls Guo's wife.
During the following Spring Festival, Yao Yilin and Chen Muhua, then vice premiers in charge of the economy and trade, paid a visit. "They encouraged us to proceed boldly, which put our minds at ease," Guo says.
But the initial bold vision has never extended beyond the lane and courtyard. Through the past 28 years, the couple has stuck to their original cuisine, represented by spring rolls and braised pork leg.
Neither did their management style change. Yuebin and another acquired modest eatery Yuexian (Pleasing Immortals) were redecorated only once in the mid-1990s. Today, about 14 employees take care of Yuebin and Yuexian, with 21 tables and a floor area of 100 square meters.
Catering to grassroots customers with quality food is Guo's mission.
"Cooking is not only a technique, but also a form of art," he says. "To attract customers, you must serve the quality dishes, right?"
He smiles and points to the banner outside: "China's first self-employed business."
(Shanghai Daily July 2, 2009)