Grandmother Ding Shiying has more than 200 "kids" - dogs and cats hanging around in her 160-square-meter courtyard house in central Beijing.
Dogs jump happily on visitors, wagging their tails.
"Don't be afraid. They are just welcoming you," she explains with a laugh, leading the way into her bedroom, the only place for guests to sit.
A white cat lies on her bed, eying strangers indifferently; a yellowish cat naps on her table; a black and white feline relaxes on the floor.
Ding, 81, looks vigorous as she moves about in a white shirt with a blue flower pattern and black cotton trousers.
"I'm in great health. They keep me active every day," she says, pointing to the roomful of animals.
She started to take in abandoned dogs and cats in 1973 when she worked as a doctor at the campus hospital of Beijing Normal University.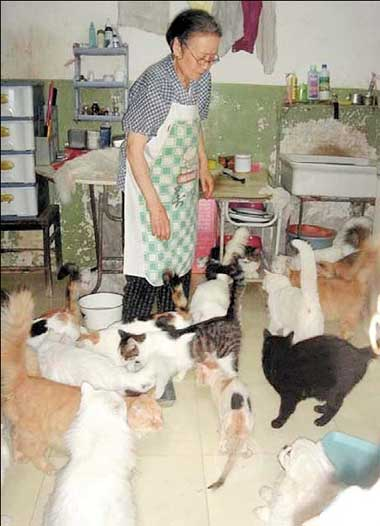 Ding Shiying, 81, feeds the cats at home in Beijing. [Shanghai Daily] 
"It was only two and three at first but now there are around 200," she says.
A dog lying at her feet wakes up and yawns.
"This sweetie was dumped three years ago. I took her in from the street, but soon she was paralyzed with a spinal problem. Doctors told me to put her down, but I treated her and now she's as healthy as the others," she says.
Ding recalls all their stories: the poodle buried alive at a month old; the skinny black cat that's going blind dumped a few days before; the white puppy infected with flies and maggots and found on the street ...
Some don't survive.
"Once I got a blind dog with cuts all over its body. I tried my best to save it, but failed," Ding says.
After many years taking in abandoned dogs and cats, Ding has some understanding of human failings toward animals - a man wanted to give her his cat because his wife was pregnant and parents called because their children got tired of puppies.
"Like kids, pets are lives as well. Why should people take care of one at the expense of the other?" Ding asks angrily.
She keeps a newspaper clipping about an 18-year-old student who was fined US$5,000 and jailed for six months in the United States after being convicted of killing 19 cats.
"We need laws to punish people for abusing and abandoning animals," Ding says.