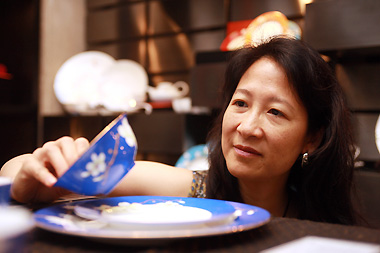 Grace Liu checks out the "Boutique Magnolias" - this season's newest series - in her retail shop at Shanghai 1933, a new commercial hub for creative industries in Hongkou District. For Grace and her brand Asianera, idealism and the spirit of creation are her driving motivation. [Shanghai Daily]
Although American-born Grace Liu has always been fascinated by traditional Chinese culture, the path to her current immersion in it was not always obvious.
As a young graduate, she landed a dream job with the computer giant IBM in sales and marketing and eventually spent eight years with the firm. It was only after leaving the company that she was able to realize her creative ambitions.
Creativity seems to run in her blood although it wasn't formalized through any art majors in her university studies.
But her sensitivity to creative quality and detail is evident in the romanticism and idealism that comes out in our conversation about hand-painted porcelain.
"The beauty of hand painting lies in the detail: the detail of discovering those small differences and the elements of pleasant surprise," Grace said.
"For example, you set up a dining table for eight people and they're all cheering about the beauty of the tableware," she said.
"Like, 'hey, look at my bowl, the fish are over here and their tails are going that way,' and another may say 'my fish is livelier, its tail is going up there.' The little element of surprise and discovery is what I find the fun part." The elegant, charming and candid woman gets lost in the thrill of these reactions which show a very special side to her character.
The major crush she has on China, and ultimately turning it into a career, was not accidental.
"It probably needs to be mostly attributed to my mother, a professor in a US university teaching Chinese classes," she said. Grace was born in a small town in New York State to a Chinese family and she and her brothers could only understand a few simple Chinese words when they were young like "chifan" (eat) and "shuijiao" (sleep).
"I consider the United States one of my homes and of course I am an American, yet my heart is also with China. My mother initiated US-China student exchange programs between her university and Chinese universities, like Peking University and Beijing Languages Institute (now Beijing Language and Culture University).
"She always taught us (children) to try to bring about positive changes in China, no matter how small they would be from us as individuals," she said.
However, their parents' influence was strong in areas of China's history and its development.
"My parents are very patriotic and were great with fascinating stories about their childhood in China," Grace recalled.
"But there is another important thing that affected me. My mother collected Chinese antiques, and I think the deepest impressions were when I went to antique shops with her. I was always attracted to the delicate and beautiful porcelain cups from around the world."
Grace majored in political science and Asian studies at the University of Michigan where she studied Asian countries and their culture, including all aspects of China.
Apart from the rich knowledge Grace took from her Chinese culture classes, she also met her future husband there. They married and began their individual careers in New York City where they lived for five years.