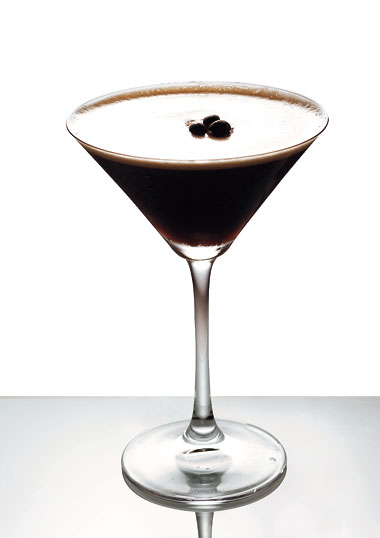 Shanghai Eclipse 2009 [Shanghai Daily]
I found myself pedaling through the alleys of Xintiandi in last week's searing sun, staying aware that I had one goal in mind. Destination, Fountain Bistro. They were having a cocktail tasting for the launch of the new happy hour series at The Executive Floor on the second level of Fountain Bistro. They had hired creative partner Zac Mirza of Bartistry to revamp the drinks menu and spice things up a little.
Shanghai Eclipse 2009
As Mirza, renowned bar maestro and mixologist, entertained me with stories of his humble start at TGI Friday's in Singapore and eventual rise to fame in the Bar Olympics of 2000, I sipped away on three of his personal reinventions of old Western classics. First up was the Shanghai Eclipse 2009. In a hue of milky brown, topped with split coffee bean, Mirza remixed the original vodka-based cocktail with a chilled expresso shot. The Eclipse sounds like it would taste rich, heavy, and almost chocolatey, but in reality, the sweet hint of coffee, paired with a subdued alcoholic aftertaste was an easy drink. Incredibly light yet slightly warm and soft, it was the standout of the three.
Shanghai Fountain Iced Tea
Next was Shanghai Fountain Iced Tea, a drink for the "well-traveled girl", as Mirza would say. Clearly influenced by Chinese and local Shanghai culture, it is infused with Yunnan Puer tea, local fresh fruit, and goji berries. While its presentation hit a home run, the drink itself tasted like a work in progress. It came in one of those Spiegelau ice tea glasses, a simple shade of orangey yellow and crowned with dark red goji berries. The Puer tea taste was strong, yet subtle and a delicate taste that needed to be savored. However, it was hard to distinguish from the many other Long Island Iced Teas I had tried apart from being lighter and smoother.
Fountain Blue
My last drink was the Fountain Blue. This zesty, fresh cocktail was about as thirst quenching as an iced blue Powerade on a hot, humid summer day in Shanghai. It was not a bad drink, but also one that I forgot about after two sips, particularly after having tried the first two, which were far superior. It was standard; good but not amazing.
All in all, the drinks were wonderful and refined. The ambience was very international and young, and the service was impeccable. I would recommend The Executive Floor's happy hour, called the Aperitivo Time, which takes place from 5-7pm. Wine is the ideal choice, as aspiring connoisseurs can sample three wines for 150 yuan (US$21.95) or six wines for 288 yuan. There are no watered-down happy hour deals at Aperitivo Time; with a complimentary buffet and a buy one bottle, get the second bottle free offer, you can truly wine and dine at the same time.
(Shanghai Daily August 3, 2009)