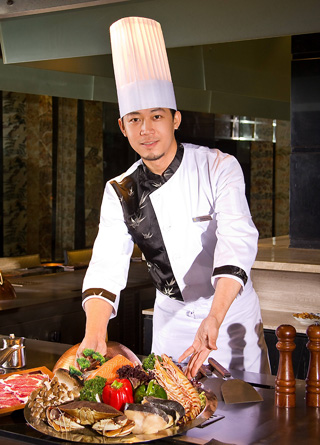 Chef Kevin Lee presents a plate of mouth-watering goodies he is going to cook on the grill. [Shanghai Daily]
Teppan-Yaki in this town is an institution like few other eating experiences. The gorge on morsels of grilled goodness, washed down with a flood of beer and sake has become the undisputed king of the all-you-can-eat dining genre in Shanghai.
Forget the meat-on-a-stick and your brunch buffets, when it comes to achieving that glazed-eyed, dozy state of stuffed satisfaction, you're looking for a chef armed with a salt shaker and who knows his way around a grill.
Teppan-yaki in Shanghai varies from the rarefied connoisseur selections of top quality Wagyu beef and seafood running into several thousand yuan per person to the student-friendly fill-your-face-and-get-plastered variety.
At 198 yuan (US$28.98) per person, Kuromatsu, the Ivy Hotel's 60-seat Japanese eatery, can handle the top end but also has a great value teppan-yaki offering.
Located on Jiaozhou Road in the former Jiangning Cinema, one of the first of Shanghai's post 1949 cinemas, the boutique 46-room Ivy Hotel is easily recognizable for its camouflage colored exterior.
At its seven-chef iron grill, which forms the centerpiece of the restaurant, the chefs produce classic high-end teppan-yaki that costs upwards of 1,600 yuan for six different menus that highlight premium Wagyu beef, abalone, crab, sea urchin and black cod.
But to chef Kevin Lee's credit, his 198-yuan offering provides a taste of the teppan-yaki experience and a range of dishes that covers the basics with polish.
And it still provides some intriguing selections for those looking to explore the menu. The deal includes all-you-can-drink beer, sake, soft drinks and plum wine.
It is often in its more budget offering that a restaurant's true colors are revealed. Shortcuts become apparent, and a touch of slapdash cynicism can sneak in to what's tabled for the less than premium spenders.
Karomatsu Teppan-yaki Restaurant doesn't take this commonly trodden path and keeps the quality high, providing a great deal for those teppan-yaki enthusiasts willing to spend only slightly above the usual 150 yuan mark.
It is obvious from his offerings that Lee is a veteran driver of the teppan-yaki grill, having done 16 years at premier Hong Kong teppan-yaki restaurant Matsubishi.
Despite few diners on the night we visited, service and the standard didn't slacken off with each dish impressively fresh and well executed.
There is really nowhere to hide when serving sashimi scallops, they are either very fresh or totally ordinary. Ours were a melt-in-the-mouth highlight.
While fish heads are a prized item in Asian cooking, Western diners can sometimes be a bit squeamish when it comes to this part of the fish. With some of the most succulent flesh located around the cheek of the fish it is worthwhile not neglecting the head when eating a whole fish.
Kuromatsu knows how to handle their heads with three types on offer. We went for a whole salmon head that had salt rubbed into the skin and was slowly cooked so the skin was crispy but the flesh inside was moist and fell away from the bone.
With rich deposits of healthy fish oil in the head, it provided the perfect excuse to ditch the chopsticks and use your fingers to get at the tender meat.
Quaint tea set
Other interesting menu items included a light, clear fish broth with steamed chicken, clams and ginko nuts served in a quaint tea set and a delicately handled baked cod roe with red peppers.
The restaurant also does regular set specials and is currently celebrating all things eel, with an eel set for 280 yuan for two to three people.
The set has eight dishes including an eel hand roll with basil and tempura eel. The Japanese eat eel in summer for its cooling qualities and this promotion runs until August 15.
Kuromatsu can cater for the top-end teppan-yaki types looking for high-quality traditional dishes but won't neglect those looking for something cheap and cheerful.
It is a restaurant that has slipped under the radar a little and can be a touch quiet during the week. But it deserves a look, particularly for diners wanting good value teppan-yaki from a chef who knows his stuff.
Kuromatsu Teppan-yaki Address: 709 Jiaozhou Rd, Shanghai
Tel: 021-3221-2800
(Shanghai Daily August 10, 2009)