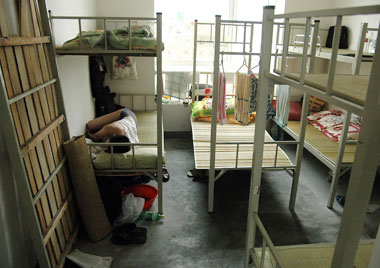 Unscrupulous landlords usually divide a normal apartment in downtown Shanghai into separate space or tiny rooms to rent out to those who want cheap habitats in this "incredibly expensive city." [Shanghai Daily]
It is difficult to make out the original layout of the 90-square-meter apartment as it is divided into six rooms, each about 10 square meters. The remainder is a tiny bathroom and a narrow and dim corridor for walking, airing clothes and cooking.
It doesn't look like a home for anyone, as no creature comforts can be found. The plastic floor squeaks at every step.
It is a typical "white-collar dorm" in a residential area near People's Square. The smallest, windowless room, possibly the original bathroom, is for rent for 900 yuan (US$132) a month, an unimaginable bargain for a habitat in one of the most convenient and busiest areas of the city.
Poorly equipped as it is, this kind of apartment for rent is gaining momentum among young adults who arrive in the city with little savings.
Although called "white-collar dorms," the tenants range from migrant workers who crash with three or four others in a room with bundled beds to fresh graduates who share two rooms among four friends.
They sacrifice a comfortable and private home for a cheap and convenient habitat in the city, a reasonable trade-off but controversial as such cases have affected not only those renting the rooms but also their neighbors.
When landlords of such "white-collar dorms" first get the flats, they were brand-new two-bedroom apartments just like any others in the city.
They divide them into several rooms, each to the minimum space for a person to survive, and rent out to different customers, complete strangers to each other. In many such apartments, even the kitchens and the bathrooms have been renovated into small rooms for rent.
Such renting reached its peak in 2006, when an official survey in Zhabei, Minhang, Putuo districts and Pudong New Area revealed that more than a third of residential areas had such accommodation.
Often, they lead to messy and dirty living environments and some people even took cases to court. Relevant departments have tried to regulate such situations, by adding new rules including "each person shall rent no less than five square meters."
However, such renting is still secretly popular.
"All of our apartments in the downtown area are really popular and are usually rented out soon after being announced. We only have one room left in one of the apartments," says the landlord of the "white-collar dorm" in People's Square, who refused to reveal his name.
Acting and speaking like a professional housing agent, he says he just helps a friend to rent out the apartment.
The reason behind the popularity, he says, is the high cost of living in Shanghai.
The average salary for graduates is usually around 2,000 yuan while many get even less. And it usually costs about 5,000 yuan for a two-bedroom apartment near People's Square.
A similar apartment in remoter areas, such as Yangpu or Zhabei districts, would cost about 1,500 yuan, with additional transport costs since most companies have their offices in central areas.
"I have to rent this kind of apartment. The housing price in Shanghai is sky high. Of course, I want a well-equipped room and my own space, but I just can't afford it," says Eric Long, a logistics company employee who has worked in Shanghai for a year.
He lives in a nine-square-meter room near his company in Pudong, sharing the apartment with four others. He didn't know any of his roommates before renting the room.
High transport costs are another concern for newcomers. As "white-collar apartments" are mostly near hot business areas or principal traffic routes, renting them means the tenants need to pay less in traveling time and money.
"I don't see anything wrong with providing cheap and convenient habitats for poor people in this city where the gap between the rich and poor is huge," says another landlord surnamed Xu, who was unwilling to reveal his full name.
The 31-year-old Shanghai native has rented 12 apartments, all in central areas such as People's Square, Jing'an Temple and Xujiahui. Dividing each apartment into small rooms, he makes a profit of at least 1,000 yuan from each apartment, which guarantees him a monthly income of more than 10,000 yuan, more than most white collars' earnings.
In 2005, Xu had more than 20 apartments, but "it has got a little hard after 2007, as relevant departments have got together to regulate such cases several times."
"But this is just like a regular market - when there is demand, there is supply. You can't help it," he says.
"I can do the business exactly because there is huge demand for cheap habitats in this city. Thousands of people work here with a wage that can not even afford a house in remote areas," he adds.
For those who suffer from such situations, such as 24-year-old Maggie Zhu, Xu's reasons are just excuses.
"I just can't understand why these bad-hearted landlords rent out such a small room to 10 or even 20 people. It's so messy and unsafe and I can't even bring the problem to anyone," says Xu, who lives in a residential area in busy Huangpu District.
She shares a two-bedroom apartment with a university classmate, but at least 10 people share a similar room next door.
Xu and her roommate often hear noises at midnight or early morning. She is also irritated by the bad smell from the room, which she once had a glimpse of and saw at least three bundled beds in the living room, surrounded by dirty laundry, leftover food, messy baskets and a lot of smelly shoes.
"We once tried to talk to them about the noise, but everyone just throws the problem to another roommate. It seems that they don't know each other well either," says Xu.
She also complained to her landlord, who reported the situation to the building's management company. The company said they would try but they didn't have the right to force them to do anything either.
According to legal experts, it is a difficult problem that no single party can solve alone - the management company can only discuss things with the tenants but has no legal powers; the neighborhood community likewise.
The police do have legal powers, legal experts say, but lack appropriate regulations and practical procedures to employ such power.
The best solution, thanks to the new rules, is through the owners' commission which is granted the right to force landlords of such apartments to cease the leasing.
(Shanghai Daily August 24, 2009)