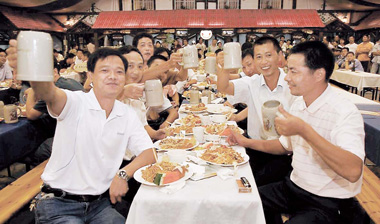 Visitors to last year's Kunshan festival raise a stein to German beer and Bavarian-style food. [Shanghai Daily]
For anyone seeking a fun and entertaining evening with lots of beer and German food, "Braugaudi-The German Tent" at the fifth Kunshan International Beer Festival is a great chance to have a happy time with friends, family or colleagues.
Running from Thursday to September 6, the festival is a fixture in the array of beer festivals popping up all over China. Third in size only to the festivals in Qingdao, Shandong Province, and Dalian, Liaoning Province, it attracts more then 400,000 visitors every year.
Among the eight tents on the roughly 40,000 square meters of festival ground, the most eye-catching is the German tent.
Organized by the German Chamber of Commerce Shanghai and German Industry & Commerce Shanghai, the tent is decorated in an authentic and traditional German style.
The aim is to have the tent resemble, as close as possible, the beer tents at Munich's Oktoberfest. They have a long history and are extensively decorated. The tent at Kunshan, Jiangsu Province, will be in the typical timber-framed style.
"In China, drinking is part of the culture. On important occasions or with business partners, people get together for dinner during which mostly white wine is consumed," says Christine Schuetze, manager of the Fairs, events and delegations department at German Industry & Commerce China's Shanghai branch.
"One could say something similar about Germans. It is very common in Germany to hear the sentence 'Let's discuss this over a beer.' As Germans are well-known for their good beers and drinking is part of both cultures, what better way than to bring both sides together during a festival that celebrates beer and also showcases a part of German/Bavarian tradition?"
Every evening a buffet will be served, including traditional German and Bavarian fare such as roast pork knuckle, bratwurst, sauerkraut, pretzels and freshly grilled suckling pig and roast chicken.
Imported and well-cooled Erdinger beer as well as the specially brewed Kunshan Festbier will be available. For those who prefer something stronger, imported schnapps will be served at the Schnapps Bar.
But as in Munich not everything is only about food and beer. A German band, "Die Emsperlen," is being flown in from Germany and will play at the tent every night to set the right mood and get people to dance off some of the calories they have consumed.
The band members are longstanding beer festival professionals and their repertoire includes well-known German folk and pop songs as well as international and Chinese pop songs. Add to that will be drinking games, tree trunk sawing, beer stein lifting and more.
As Kunshan is very close to Shanghai, many companies from Shanghai come with their whole team to spend a fun evening and build team spirit. Chinese and expats from the whole Yangtze River Delta region also make the trip to enjoy a relaxed and companionable atmosphere with colleagues, friends and family.
"We want to provide our visitors with a real, authentic German beer tent atmosphere.
"For those who have never been to a beer fest, it should be an introduction to German/Bavarian culture and provide them with a fun time to make them come back again and again," says Schuetze. "For those who have been to beer fests in Germany before, we strive to provide the same atmosphere so that they can feel right at home. We hope all our visitors leave our tent feeling they have had a great time there with good food and beer and one big, happy party."
Tickets: General entrance tickets cost 10 yuan/US$1.46.
Pre-sale package tickets are priced at 208 yuan (Sunday-Wednesday) and 218 yuan (Thursday-Saturday) and can be purchased through German Industry & Commerce China's Shanghai; Single tickets can also be bought on site for 208 yuan (Sunday-Wednesday) and 238 yuan (Thursday-Saturday).
Tel: 021-6875-8536, ext 1677
Email: beerevent@sh.china.ahk.de
Website: www.braugaudi.com
How to get there
1. By car:
Take the A11 (Shanghai-Nanjing) Expressway heading to Nanjing, exit in Kunshan, head to the city center, stay on Qianjing Road.
Take A12 (Shanghai-Jiading) Expresway heading to Taicang, exit in Zhuqiao/Kunshan. Take left to Kunshan, stay on Qianjing Road.
As parking at the fair ground will be limited, contact GIC Shanghai for parking tickets in combination with the group ticket.
2. By train: With the new CRH-Trains (D-Trains) it takes only 18 minutes, considerably faster than by car.
3. By bus: GIC Shanghai will have at least one shuttle bus every day from Shanghai and back. Contact beerevent@sh.china.ahk.de for further information.
(Shanghai Daily August 25, 2009)