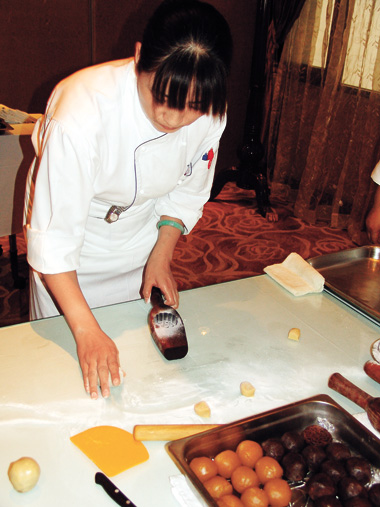 Top chef May Shan begins another class in the traditional art of making mooncakes. [Shanghai Daily]
As the annual Mid-Autumn Festival draws near, which falls on October 3 this year, the Portman Ritz-Carlton is giving keen cooks the chance to see how the millions of cakes consumed every year are made.
The luxury hotel has got their top dim sum chef, May Shan, to teach cooking classes that will take participants through the various stages of making mooncakes.
During a class, Shan prepares the dough that makes the outer skin of the mooncakes and shows participants how to shape the skin around the pre-prepared mooncake centers.
Finally, the mooncakes are pressed into flour-dusted wooden moulds before being inverted and tapped free.
During a class, Shan will prepare two types of mooncake, red bean and lotus seed.
The red-bean mooncake can be eaten straight away after the class but the lotus-seed variety should be baked and then left to sit, ideally for 30 days.
"Many foreigners are interested in doing our cooking classes," says Shan. "They get a deeper understanding of the Mid-Autumn Festival and the tradition behind the festival and they also learn the ingredients and how to make the mooncakes that everyone gives as gifts."
Watching her roll out dough and mould the mooncakes is to witness an extraordinary display of manual dexterity and skill.
Shan has held cooking classes at the hotel for the past six years. She prepares more than 500 dim sum a day in her role as chief dim sum chef at the Portman Ritz-Carlton.
She originally trained under a Hong Kong master dim sum chef and has been making them for more than eight years.
Each day Shan and her team make over 40 types of dim sum and she is constantly experimenting with traditional recipes to put a twist on old classics.
She is one of only a few female dim sum chefs and she says all the other dim sum chefs around town keep an eye on what their competitors are doing.
"It is not unusual for a dim sum chef to go and try another person's dim sum, just to see what they are doing," she says. "If someone comes up with something new the others will want to know what they are doing."
The cooking classes, which are bilingual, are run on a demand basis and have a minimum class size of 10 people. A class costs 280 yuan (US$41) per person plus a 15 percent service charge. Book by calling 021-6279-8888 ext 4770.
(Shanghai Daily August 27, 2009)