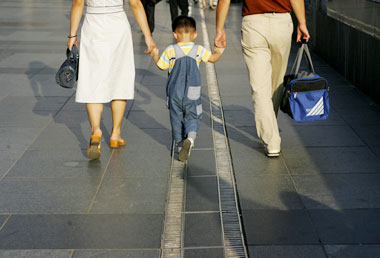 For some parents, one major reason to have a second child is to hope their children can learn how to share with others and be generous. [Shanghai Daily]
As Shanghai becomes richer and older with the number of retired residents soaring, the city's authorities have launched a campaign to encourage couples who are themselves only children to have a second child, the first time in decades the government has pushed for more babies and the way to solve the city's rapidly aging problem.
This is being regarded, to some extent, as a call to relax the country's one-child policy that has been in place since 1978.
In fact, the family-planning policy was relaxed in Shanghai as early as in 2004 and the "two one-child parents allowed to have a second child" policy has been in force for several years. This time the government is to reiterate it and encourage more couples to have babies as the city's aging problem grows more serious.
Shanghai Population and Family Planning Commission reveals that last year the number of the city's registered residents over 60 exceeded 3 million, accounting for almost 22 percent of the total population. Shanghai is about to be "as old, not as rich though, as developed countries such as Japan and Sweden."
"We encourage eligible couples to have two kids as one of the ways to cope with our aging communities," says Xie Lingli, the commission's director. "It is expected to help reduce the proportion of the aging population and alleviate a workforce shortage in the future."
The policy has been given a warm welcome from quite a few young couples who plan to have two children.
"Of course this gives us one more option. If family finance permits, we surely want more babies," says Wang Wei, a 29-year-old civil servant working in Minhang District Economic and Trade Commission. He got married last year and his wife Zha Junyan is pregnant. Wang and his wife are both only children.
"We plan to have the second baby in two years," Zha says. "I'm the only child in my family. I had this feeling of growing up alone. I always hoped to have a sister or brother when I was a kid."
Zha seems not that worried about the financial pressure the second child will bring. "It's like one plus one is less than two. The younger one can use all the stuff the bigger one has left - things like clothes, toys, feeding bottles, cradles and prams. In addition, the parents will be more experienced to handle the second baby," she says. "It's not as frightening as it sounds."
Zha's point of view echoes with Wang Yan, a 28-year-old working mother of a three-year-old daughter. Wang gave birth to her second child, a boy, earlier this month.
A trip to Hong Kong Disneyland with her husband and daughter last year made her keen to have another baby.
"I saw in the theme park many foreign parents holding a bigger one by the hand and a smaller one in their arms. Ah, so sweet. This is what a family should look like," she says.
Wang was tested pregnant again after the family's trip. "Without too much talk, my husband and I decided to have the baby," she says.
Wang and her husband are an eligible couple (both the only child in their families) to have the second baby.
At first Wang was quite worried about her daughter's reaction because she often heard from her colleagues how evil today's kids were by threatening their parents not to have a second baby who would take away their love and attention. "I would pinch him/her to death," those children would say.
However, when Wang told her daughter she would soon have a younger brother, the girl thought for a while and said: "Could I have an elder sister?"
"I said no and she was a little frustrated. But when I told her she could have a new family member who can draw pictures with her, she suddenly became happy," Wang says.
Another major reason to have a second child, the mother says, is to hope her children could learn how to share with others and to be generous.
"Many only children in China have earned the nickname of 'little emperors' for the love and treats lavished upon them. They're selfish, arrogant and sometimes unreasonable," Wang says.
The one-child policy in China's mainland was written into the constitution in 1978 and couples who ignore it usually pay fines and could face pressures at work.
The law states that an ineligible couple who had a second child would pay a fine up to three times their average annual income and those who had three or more babies would be fined as much as four to six times their average yearly income.
Faced with such heavy financial penalties, quite a few ineligible parents desperate for more babies still found a way out. Shanghai native Vivian Cao gave birth to her second child last December, though in Hong Kong. In recent years, more mainland mothers have traveled to Hong Kong to deliver their babies.
Some seek Hong Kong's more advanced medical care, some want their children to get Hong Kong residency and the others, like 32-year-old Cao who has an elder brother, just want to have a second child.
"I'm not the only child in my family, so on China's mainland I am forbidden to have two kids," Cao says. Her first child is three years old.
Though under Hong Kong's regulations anyone born there automatically receives permanent residence, Cao says she actually doesn't care about that at all.
"I just wanted to have one more baby and avoid the fine. My husband and I haven't thought that much about Hong Kong ID or something," she says, despite the fact that the couple would invest more in tuition fees for their Hong Kong child.
While some have welcomed the policy relaxation, others are less enthusiastic. According to a poll conducted among 829 eligible Shanghai dwellers, only 18.5 percent wanted to have two babies. Financial pressure was the biggest reason for the major 81.5 percent who didn't want two.
"To handle one child is a disaster, not to say two," says Li Jiejin, who gave birth last year. "To raise a child is too expensive from daily necessities to school tuition and insurance, plus time and energy parents devote. It's too stressful."
A report released by East China Normal University this June revealed that in Shanghai it costs 118,000 yuan (US$17,353) to raise a child to the age of six.
(Shanghai Daily August 28, 2009)