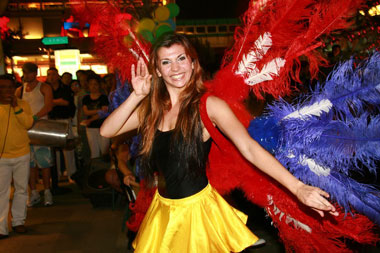 A Brazilian beauty has fun at the festivities. [Shanghai Daily]
The rhythms, color and passion of Brazilian culture will be on display during a one-day celebration of the country's national day in Pudong next Sunday.
The local Brazilian community will gather at Pudong Green City International Community at 9am for the celebrations which include demonstrations of Brazilian dance, music, martial arts and even Brazilian beauties playing soccer.
Hearts will be racing when a Brazilian football team comprised entirely of models takes to the field to show their ball skills in the afternoon festivities.
It is the second year the festival has been run and this year will include the Brazilian Independence Day Cup, a 10-team mini World Cup-like competition.
Players from the Shanghai Premier League will represent 10 countries including the Netherlands, Turkey, Italy, England, Japan and China. Of course, the skill and style of Brazilian football will also be showcased with a Brazilian team drawn from the local expatriate community.
The Brazilian Chamber of Commerce, along with the country's consulate, will run the event and the chamber's Chairman Charles Tang says the day was designed to introduce Brazilian culture to the broader Chinese community.
"This Brazilian National Day is a very important day for Brazilians, but it is also a way of bringing our culture to Chinese people," Tang says. "We want to build the connection with Brazil and there will be football, Brazilian kung fu called Capoeira and Brazilian food and drinks to enjoy. Brazil is a very happy country that likes festivities."
In keeping with the theme of exchanging cultures, a traditional Chinese lion dance and a kung fu display will also be included as part of the day-long festival.
The restaurant chain Latina is partnering with the festival to provide Brazilian barbecue and traditional drinks.
The Brazilian community in Shanghai is estimated to be around 3,000 with about 1,500 registered with the consulate.
Tang says many of the Brazilian business community are occupied in medium to large-sized companies in industries like banking and minerals.
Along with Itau Unibanco, South America's biggest bank, and iron ore giant Vale, there is broad trade in China across industries like aircraft manufacturing and construction.
The Brazilian Chamber of Commerce has a membership base of more than 450 companies.
Tang says the chamber had a long-term commitment to supporting cultural events in Shanghai and for the past 20 years had featured Brazilian films in the Shanghai International Film Festival.
As part of the cultural events, there will be a Brazilian band playing from midday to 1pm. There will also be a Capoeira and Maculele dance presentation.
Capoeira is an Afro-Brazilian art form that combines elements of martial art, games, music and dance.
Originally created by African slaves brought predominately from Angola in the 16th century, participants form a circle and take turns playing instruments, singing or ritually sparring in pairs in the circle.
Maculele is similar to Capoeira, except the two people sparing in the circle, or roda, use long sticks called grimas. Also on display will be Brazilian Jiu-Jitsu, an adaptation of the 20th-century Japanese Kodokan Judo.
As well as the nation's rich musical heritage that includes the line dance bossa nova and Brazilian country music Sertanejo, Brazil's renowned variety of dance forms will also be showcased.
The festivities will start at 9am at Pudong Green Leisure and Sports Center at 633 Biyun Road, near Yunshan Road.
The football competition will run throughout the day culminating with the final at 4pm. The Brazilian model's match will be at 5pm and the Chinese dragon dance at 5:30pm.
Brazilian drumming and a live band will keep the party going from 6pm until the event finishes at 9pm.
For more information, e-mail to braziliandayinchina@gmail.com.
(Shanghai Daily September 2, 2009)