With Beijing hosting the 2008 Olympic Games in 35 days, it was a banner day for China on Saturday as two women's teams secured medals on the Victory Park podium at the US$600,000 Moscow 2008 Grand Slam topped by Chen Xue and Xi Zhang.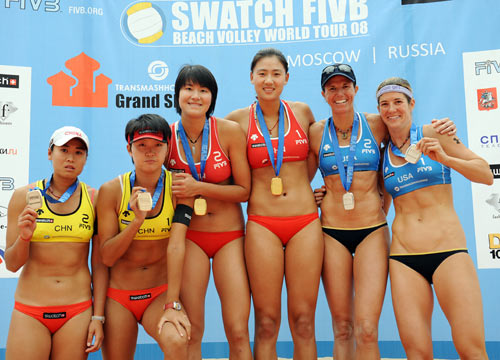 With medal match wins over teams from beach volleyball powers Brazil and the United States, China will have two of the top six seeded teams when pool play opens in the capital city of the Asian country August 9 led by projected No. 1-seeded Jia Tian and Jie Wang.
The women's Olympic final will be August 21 followed by the men's medal matches August 22. The process for the Beijing 2008 Olympic Games ends in two weeks when the French port city of Marseille hosts the last qualifier to help determine the 24-team fields for both the men and women competition.
After Tian and Wang's 21-16 and 23-21 bronze medal victory in 41 minutes over Brazilians Talita Antunes and Renata Ribeiro, Xue and Zhang captured their fourth SWATCH FIVB World Tour title with a 21-8 and 21-18 win in 42 minutes over Nicole Branagh and Elaine Youngs of the United States.
The gold medal win also netted the sixth-seeded Xue and Zhang the $43,500 first-place prize while the top-seeded Branagh and Youngs left Moscow with $29,500 along with securing their country's second Olympic beach volleyball berth behind Misty May-Treanor and Kerri Walsh.
Second-seeded Tian and Wang split $23,000 for third-place with the fourth-seeded Talita and Renata sharing $18,000 for their first SWATCH FIVB World Tour Grand Slam "final four" finish as the Brazilians also clinched the South American country's second Olympic spot behind Juliana Felisberta Silva and Larissa Franca.
Xue and Zhang's title victory was their fourth win in as many meetings with Branagh and Youngs as both teams entered Saturday finale with gold medals earlier this season in Korea and Spain, respectively. While the 38-year old Youngs is the oldest player to win SWATCH FIVB World Tour title at a May stop in Barcelona, Xue was the youngest winner when she captured an international gold medal in 2006 at Shanghai.
"We are delighted with our play today," said the 23-year old Zhang, who was named the SWATCH most outstanding player for the event. "We defeated two very good teams, so we feel that this will help our preparation for the Beijing Olympics. We look forward to hosting all the players next month."
With a combined age of 42 years, Xue and Zhang advanced to the Moscow 2008 Grand Slam finals with a 21-14 and 21-12 win in 40 minutes over the 27-year old Tian and 22-year old Wang. It was the 21st SWATCH FIVB World Tour meeting between the two teams with Tian and Wang now holding a 15-6 edge.
With a 21-17 and 21-14 semi-final win in 37 minutes over Talita and Renata, Branagh and Youngs added another 160 points to their Olympic qualifying total for their best eight finishes on the SWATCH FIVB World Tour since May 2007. The win eliminated compatriots Jen Boss and April Ross from Beijing consideration as Branagh and Youngs have 4,540 qualifying points while Boss and Ross could not overtake their rivals with a gold medal finish in Marseille (July 15-20).
The first SWATCH FIVB World Tour stop in the Russian capital since 1999, the Moscow 2008 Grand Slam also features men's competition where elimination matches were being played Saturday leading into Sunday's podium placement matches at Victory Park.
(BOCOG July 7, 2008)