Defending champion Wang Meng of China stormed into the women's 500-meter short track quarterfinals of the Vancouver Winter Olympics in Canada on Saturday.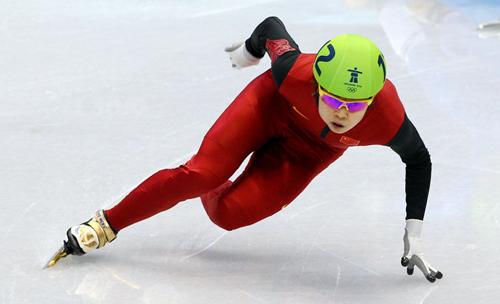 Wang Meng of China competes in the women's 500m heats of short track speed skating at the 2010 Winter Olympic Games in Vancouver, Canada, on February 13, 2010. Wang qualified after the heat. [Xinhua photo]
The 25-year-old Wang, the world record holder of the event and an overall World Cup leader this season, set a new Olympic record of 43.926 seconds on the way of winning her heat race at the Pacific Coliseum.
While the Chinese team, which has taken home the gold medal of the women's 500m in the last two Games, was hit by the loss of Zhao Nannan who tumbled following a body contact with Frenchwomen Veronique Pierron before finishing at bottom of her pool.
All three South Korean skaters entering the competition advanced into Wednesday's quarterfinals where they will be joined by American medal hopeful Katherine Reutter and Bulgarian veteran Evgenia Radanova.