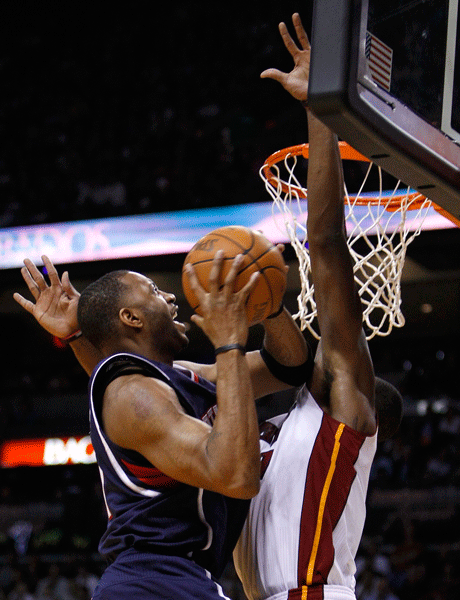 Tracy MacGrady of Atlanta tries to go basket past Miami's Joel Anthony during the second half of Atlanta's 100-92 win in an NBA basketball game on Monday, Jan. 2, 2012.
Joe Johnson scored 21 points and Tracy McGrady hit a pair of big 3-pointers in the fourth quarter as the Atlanta Hawks ended Miami's perfect start by beating the host Heat 100-92 in the NBA yesterday.
McGrady and Al Horford each scored 16 for the Hawks, who opened the final period on a 15-3 run to take control.
McGrady made perhaps the two biggest plays of the night in the final minutes, first throwing a lob to Josh Smith for a dunk, then hitting a 3-pointer that gave the Hawks a 93-84 lead with 2:26 left.
LeBron James scored 28 points, Chris Bosh had 19 and Dwyane Wade finished with 12 for Miami, which led by as many as 10 in the early going and took a four-point lead into the final quarter.
The Heat had won their first five games to start the season.
Celtics 100, Wizards 92
In Boston, Ray Allen scored 11 of his 27 points in the fourth quarter as the Celtics won for the second straight night over Washington.
Paul Pierce had 21 points and eight rebounds for the Celtics, who improved their record to 500 after losing their first three games of the season. Rookie Greg Stiemsma, making his first start, had 13 points and seven rebounds.
Andray Blatche led the winless Wizards with 28 points and nine rebounds, JaVale McGee had 17 points and 14 boards, and John Wall had 11 points.
Washington head coach Flip Saunders was ejected 1:46 into the contest after screaming in protest when Stiemsma blocked Rashard Lewis' shot and knocked him to the floor but wasn't called for a foul.
Boston beat the Wizards 94-86 in Washington on Sunday.
Pistons 89, Magic 78
In Auburn Hills, Michigan, Ben Gordon scored 26 points as the Pistons overcame early foul trouble to beat Orlando.
Rodney Stuckey and Tayshaun Prince added 14 points apiece for the Pistons, who have won two in a row after losing their first three games of the season.
Dwight Howard had 19 points, seven rebounds and five steals for Orlando, which was playing a night after rallying to beat Toronto. Hedo Turkoglu and Ryan Anderson each added 13 points for the Magic.
Raptors 90, Knicks 85
In New York, Andrea Bargnani and DeMar DeRozan each scored 21 points as Toronto held off the Knicks to end a three-game losing streak.
Jose Calderon added nine points and 12 assists for the Raptors, who opened up a 17-point advantage at halftime and withstood a late New York rally. Toronto blew a 16-point lead Sunday in Orlando before losing 102-96.
Carmelo Anthony had 35 points and 11 rebounds for the Knicks, who played their second straight game without Amare Stoudemire, who has a sprained left ankle.
Pacers 108, Nets 94
In Newark, New Jersey, Paul George scored 21 points as the Pacers topped the struggling Nets for their fourth win in five games.
Danny Granger added 15 points and David West scored 13 for Indiana, which shot a season-high 52.6 percent from the field.
Deron Williams scored 22 points and rookie MarShon Brooks added 21 for the Brooklyn-bound Nets, who have not led for a second in their two losses at home in their final season in New Jersey.
The Nets, who have lost five straight, played without Brook Lopez (broken foot) and Kris Humphries (sore shoulder).