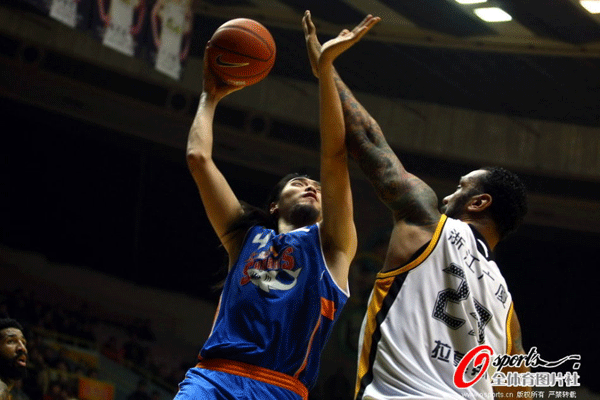 Ramos of Guangsha Lions tries to bolck Zeng Wending's shot during a CBA match between Shanghai Sharks and Guangsha Lions on Jan.9, 2012.
The Shanghai Sharks extended their winning streak with an 94-88 win over the Guangsha Lions in Hangzhou.
With Liu Wei pulling the strings in attack and his teammates sharing out the scoring opportunities, Shanghai had managed to open up a 25-12 lead after the first 12 minutes.
However, the introduction of Guangsha's towering center, P.J. Ramos gave the Lions extra steel to their game. As gaps began to emerge due to the physical demands of keeping the 7"3 Ramos under control, the Lions began to come storming back in the game.
It would take the deft finishing of Mike Harris to steady the ship and by the time the halftime buzzer came, the Sharks had retained their advantage to lead 49-40 at the break.
With both Ramos and Wilson Chandler on the court after the interval, the Sharks had to dig deep to not only contain the pair but also pour forward and keep the scoreboard moving. It was pulsating stuff and players from both sides began to look exhausted.
Still leading 74-64 as the final quarter began, the Sharks continued to stay ahead of the increasingly desperate Lions and with Harris continuing to make clutch shots whenever he fashioned himself the space to shoot, Guangsha was running out of time to save the game.
Barring a couple of turnovers late in the quarter, the Sharks were smart enough to run the game clock down and suffocate Guangsha's destructive offense in the crucial final minutes. A buzzer beating three-pointer by newly-signed small forward Marcus Landry was the icing on the cake after a fantastic performance saw the Sharks record another improbable victory.
Harris made 29 points, Liu picked up 13 while Landry and Meng Lingyuan scored 12 points each but the game was ultimately won by an excellent defensive performance from the entire Sharks side.
For Guangsha, Chandler grabbed 23 points while Jin (17), Ramos (14) Lin Zhijie (12) and Zhang Wei (10) all picked up double-digit scores.
Elsewhere in the CBA, the Zhejiang Bulls lost 110-128 to the Shanxi Dragons. Also, the Beijing Ducks' poor form continued with a 105-109 home defeat to the Fujian Sturgeons. Defending champion Guangdong outlasted the Qingdao Eagles 127-117 in Dongguan.