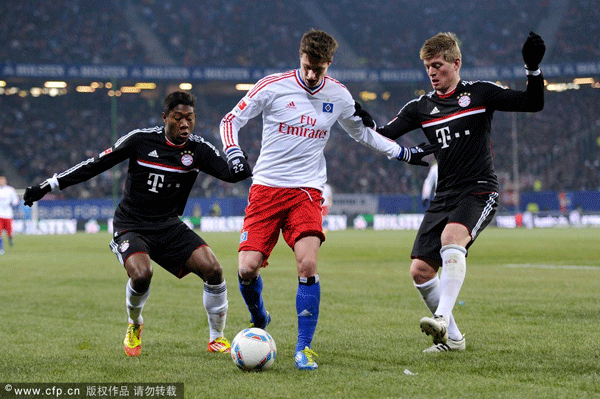 David Alaba (L) of Muenchen, Jacopo Sala (C) of Hamburg and Toni Kroos (R) of Muenchen battle for the ball during the Bundesliga match between Hamburger SV and FC Bayern Muenchen at Imtech Arena on February 4, 2012 in Hamburg, Germany.
Bayern Munich were held to a 1-1 draw against Hamburg to slip to second position Saturday due to the Dortmund's Victory a day earlier.
Title chasers Schalke 04 and Monchengladbach both dropped points owing to draws.
From the start, Hamburg surprised with effective pressing against nervous Bayern. At the 23rd minute Hamburg youngster midfielder Jacopo Sala opened the scoring for his side to astonish the Bavarians.
With the lead behind the "Hanseaten" retracted and defended deep to lurk for counters.
After the break unimaginative Bayern took over to equalize the score through joker striker Ivica Olic at the 71st minute who tapped in from goal area after confusion inside Hamburg penalty area.
Bayern slipped from first position to second with 41 points whilst Hamburg stay on 11th position with 23 points.
"We have shown a good performance. We have staged a good defence and we have never given up," Hamburg coach Thorsten Fink said.
"We had played well only the claims are larger at FC Bayern. We can not be satisfied. We had to win today," Bayern coach Jupp Heynckes said.
Schalke 04 were held to a 1-1 draw against struggling Mainz after five wins in a row to lose two points at title race.
12th positioned Mainz started highly aggressive and offensively minded against third positioned Schalke. With 15 minutes into the match, Mainz striker Mohamed Zidan volleyed home a long cross from inside penalty area to shock the host with the opener at Schalke Arena.
As the match progressed Schalke took over but unable to score within the end of the first half.
After interval Schalke staged a dedicated performance to level the score at the 58th minute through striker Chinedu Obasi who slotted into bottom left from goal line.
Both sides stay on their positions, Schalke on third with 41 points and Mainz on 12th position with 22 points.
After contested 90 minutes Bundesliga stunning team Monchengladbach had to share points with ninth positioned Wolfsburg with a goalless result.
Monchengladbach dominated the first half whereas the "Wolves" took over with beginning of the second half.
Both sides remain on their positions, Wolfsburg on nineth with 24 points and Monchengladbach on fourth with 40 points.
Ten men Leverkusen were able to save one point against Stuttgart.
Sixth positioned Leverkusen started dominant against tenth positioned Stuttgart thus they were able to open the scoring at the 11th minute owing striker Stefan Kieling who tapped in a rebound from very close range. The "Werkself" were on top of the things but Stuttgart equalized the score out of the blue at the 23rd minute after striker Julian Schieber slotted home a diagonal pass to make it 1-1 and to shock the host.
With only 40 second into second half, Thorsten Kienhoefer awarded Leverkusen a penalty after a foul play inside penalty area. Leverkusen midfielder Simon Rolfes converted to take the lead for his side.
At the 63rd minute, Leverkusen defender Michal Kadlec weakened his side when he booked his second yellow within short time to leave pitch ahead of time.
Stuttgart pressed frenetically to tie the game against ten men Leverkusen and their efforts were rewarded at the 89th minute as striker Martin Harnik netted the equalizer to save one point for his side.
Just before the end, Stuttgart defender Cristian Molinaro booked a straight red card for a rude foul against Leverkusen striker Andre Schuerrle.
Leverkusen climbed from sixth to fifth with 31 points while Stuttgart stay on 10th position with 23 points.
Berlin lost their third at the third match in 2012 owing to the winner from Hannover striker Mohammed Abdellaoue at the 68th minute.
Hannover stay on seventh position with 30 points whereas Berlin reside on 15th position with 20 points, two points away from relegation battle.
Augsburg wrapped a hard earned 2-2 draw against host Hoffenheim to ensure one point at relegation battle.
Augsburg striker Sascha Moelders surprisingly opened the scoring for his side at the 31st minute followed by two goals by Hoffenheim one by striker Peniel Mlapa and one converted penalty by midfielder Sejad Salihovic to turn the match to 2-1. Finally at the 72nd minute Sebastian Langkamp headed the 2-2 draw.
Augsburg stay on 17th position with 17 points and Hoffenheim sit on eighth position with 24 points.
The following fixtures are set for Sunday: bottom team Freiburg host Bremen, whilst Kaiserslautern meets Cologne