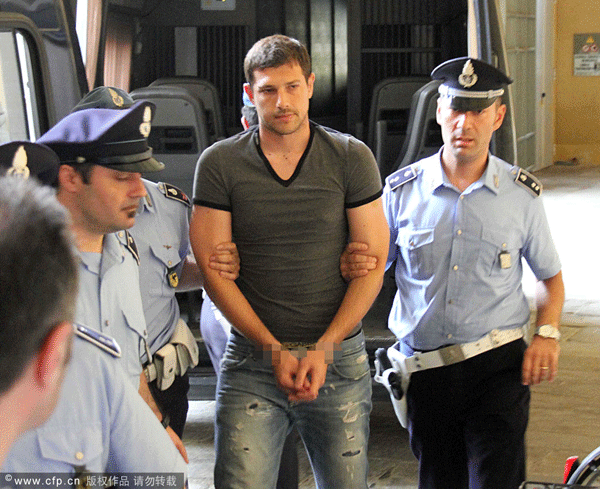 Italian Footballer Marco Paoloni has been arrested on suspicion of match fixing.
Professional football in eastern Europe is struggling with a "terrifying lack of respect" for the rights of players who are being exposed to increasing violence, racism and match-fixing, according to a report issued on Tuesday.
FIFPro, the global union for professional players, revealed their findings in what they have called The Black Book Eastern Europe, after a survey of nearly 3,400 players in mainly eastern Europe with others from southern Europe adding their voices to a survey that makes astonishingly somber reading.
FIFPro, which published the report in Brussels, says there is "an urgent need" to improve the legal position of professional players in eastern Europe.
The report concludes that almost a quarter of players (23.6 percent) are aware of match-fixing in their league and that in Russia, host of the 2018 World Cup finals, the figure is as high as 43.5 percent.
Turkey is currently engulfed in a serious match-fixing scandal, while many other cases have come to light in other eastern European countries.
Director Anthony Higgins said the results were worrying.
"They are a massive wake-up call for football, including in Western Europe," he said. "In the east, players regularly discover they are not paid by their clubs and then find themselves being targeted by corrupt influences. They are vulnerable."
The report indicates a link between non-payment of player salaries and match-fixing. Of the 41 percent of players whose salaries have not been paid on time, more than half were approached to consider cheating.
One in nine of the players polled have been the victim of a violent act, with some attacked by coaches and other by fans.
Over nine percent of players reported examples of racism or other forms of discrimination - mainly from supporters. Of those who said they had been the victims of racism, 65.3 percent said it was caused by fans.
In a statement, FIFPro said the findings of the report indicated a "terrifying lack of respect for players".
"The professional footballer, in eastern Europe, must fight for his rights, because a large number of the employers are not so particular about their obligations, FIFPro said.
"The most essential condition for professional football is that a football player is paid by his club. But of the 3,357 professional footballers who cooperated in this study, 41.4 percent do not have their salaries paid on time.
"5.5 percent of all players have to wait more than six months to receive their salary. 2.2 percent have even had to wait more than a year for their salary arrears to be paid or are still waiting for that to happen.
"According to a vast majority of the players (92.9 per cent), the clubs claim they cannot pay because they lack the finances.
"For the sake of clarity: not all professional players are millionaires or earn hundreds of thousands of Euros.
"The vast majority of the players who participated in this study earn (at most) an average income and are not financially independent."
The report concluded with a blunt message:
"On average, it means that in each team that comes onto the field, there is at least one player who has been a victim of the aforementioned forms of mental or physical violence. That is more than shocking.
"The current situation in Eastern Europe is unacceptable. That should also be the case for every stakeholder in football. If they are still not convinced, then FIFPro's Black Book Eastern Europe should set off the alarm bells."