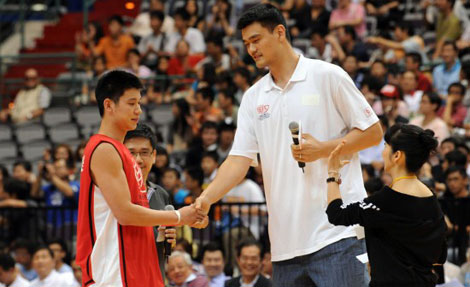 Basketball player Jeremy Lin (L) shakes hands with Chinese basketball star and former Houston Rockets center Yao Ming during a charity basketball match for Yao Foundation Charity Tour in Taipei, southeast China's Taiwan, July 28, 2010. [Photo/Xinhua]
The sensational emergence of Chinese-American player Jeremy Lin has provided a much-needed boost for the NBA in China following Yao Ming's retirement last summer.
Though he was born in the United States and speaks few Chinese words, the 23-year-old New York Knicks point guard has become a darling of the Chinese media and fans, who switched their attention to the domestic league due to the NBA's lockout last year and a lack of Chinese faces in the world's premier league.
Lin has averaged 26.8 points in his past five games, highlighted by a career-high 38 in the Knicks' victory over the Los Angeles Lakers last Friday, and his influence on the Chinese-American community has been compared to that of All-Star center Yao.
However, he has followed a markedly different path to that of the giant Yao, who was the overall first draft pick in 2002. Lin was an undrafted Harvard graduate who emerged from seemingly nowhere to become the toast of New York and Asian-Americans everywhere.
"There are a lot of players like Lin in America, they linger outside the gym doors and continue to go to training trials ... 99 percent of them fail, but Lin held on to his dream; he is lucky and this is a typical American dream," said Yang Yi, deputy chief editor of Chinese newspaper Titan Sports and a popular basketball commentator.
Meanwhile, fellow commentator Zhang Weiping hailed Lin as the pride of Asia.
"No Asian-American had such success in the NBA before Lin, whose first game as a starter for the Knicks not only attracted Chinese fans but also saw South Koreans and Japanese cheer for him, too. The whole of Asia is proud of him," Zhang said.
"Lin has shown that being tall is not the only way for Asians to make it in the NBA. It also comes down to working harder than others and understanding the right way to play basketball," he said.
Lin had more than 862,000 fans following him on Sina Weibo on Monday, a massive rise compared with 190,000 earlier this month. His self-made humorous videos, including How to Get into Harvard, have also been widely viewed on the Internet in China.
Despite Lin's skyrocketing popularity, people still believe he has benefited from the absence of Knicks stars Carmelo Anthony and Amare Stoudemire.
"The absence of the Knicks' main scorers and other teams' unfamiliarity with him have provided him with opportunities," Zhang said. "It won't be easy for him to maintain his stellar form as other teams will begin to study him more closely. Therefore, he needs to work even harder for a long-term career in the NBA."
Yang said, as an Asian, Lin still needs to improve his fitness and strength to compete in the league.
"Lin has better physical qualities than other Chinese because he has grown up in America and trained in the American system, but compared with other point guards in the NBA, his weakness is still on the physical side," Yang said. "To firmly establish himself in the NBA, Lin needs to play regularly, and it's still too early to say he can do that."