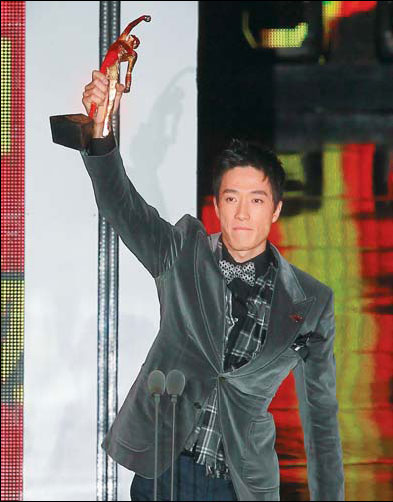 Liu Xiang holds the trophy of the Grand Jury Prize during the 2011 CCTV Sports Personality awards ceremony in Beijing on Sunday. Cui Meng / China Daily
China's star hurdler Liu Xiang will start his new season on Saturday at the Birmingham indoor tournament and will say hello to arch rival Dayron Robles of Cuba.
The reigning Olympic champion Robles pushed Liu back as they crossed the penultimate hurdle in last year's world championships in Daegu, South Korea.
Robles, who initially won the race, was later disqualified for the foul, allowing American Jason Richardson to take gold and Liu silver.
Liu said he will not feel embarrassed when he sees Robles in Birmingham, "I will say 'hello, mate, how are you doing recently?' when I meet him in England."
"I don't think he did anything wrong in Daegu. Those kind of things always happen in a competitive race. It's normal," Liu said. "We are both professionals. And most importantly, we are friends. We have competed against each other for so many times."
Liu, the 2004 Olympic champion and 2005 world titlist, said that the upcoming world indoor championships in Istanbul are a pivotal part of his preparation this year on the way of trying to regain the Olympic title in London.
"But this new year I didn't go back home at the Chinese new year on Jan. 23, which was the first time for me. I stayed with my teammates, training hard preparing for the Olympics."
"The new season is approaching with the new year 2012. I will compete in some indoor meets in February before the world indoor in Turkey, where I hope I could gain beautiful memories since this will be one of the most important IAAF competitions before the London Olympics," he said.