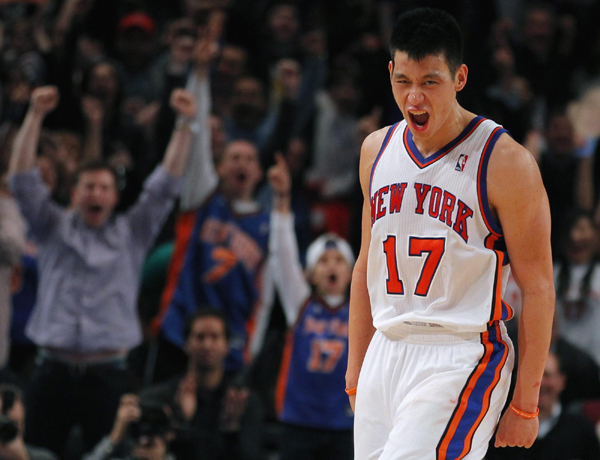 New York Knicks point guard Jeremy Lin reacts after hitting a three-point shot against the Dallas Mavericks in the fourth quarter of their NBA basketball game at Madison Square Garden in New York, Feb 19, 2012. [Photo/Agencies]
Jeremy Lin, whose meteoric rise from obscurity to dazzling court general for the New York Knicks has become a global story, had a rare favor to ask of the massive media turnout for his team's 104-97 victory over the NBA champion Dallas Mavericks yesterday.
The NBA's first Taiwanese-American player, after scoring a team-high 28 points and doling out 14 assists, appealed for consideration for members of his family in Taiwan.
"I love my family, I love my relatives," he said, when asked about his grandmother in Taiwan, who has become something of a celebrity, according to a question asked by a Chinese television reporter.
"One special request I have is for the media back in Taiwan to kind of give them their space because they can't even go to work without being bombarded and people following them," he said.
"I want people to respect the privacy of my relatives in Taiwan. Hopefully this will get back to everybody because they need to live their lives as well," said Lin, who has won admiration for his humble demeanor and the way he has handled all the attention since bursting onto the sporting scene two weeks ago.
He continued his sensational run since being installed at point guard by the Knicks, who acquired him after he was cut by two NBA teams, and further justified his addition to Friday's Rising Stars Challenge over the NBA All-Star weekend in Orlando.
The 23-year-old Harvard graduate said the win over the reigning NBA champions was a measuring stick for the Knicks and came against a boyhood idol of his in Mavericks' point guard Jason Kidd.