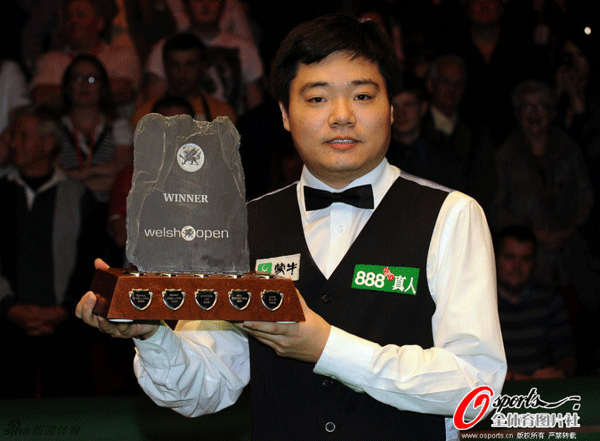 China's Ding Junhui lifts the trophy after defeating England's Mark Selby 9-6 in the final of the Welsh Open.
A delighted Ding Junhui, who won his fifth career ranking title on Sunday when he defeated England's Mark Selby 9-6 in the final of the Welsh Open, revealed for the first time he has a girlfriend.
"Apple (his girlfriend's English name) gives me a lot of help in daily life. She's been taking care of me, making dishes and encouraging me to train every day," said the Chinese snooker star, who was rumored to have had romantic interludes with Chinese women's nine-ball world champion Pan Xiaoting and young model Wang Jiaying, which were denied by all.
The 24-year-old's success in the sport, which has millions of followers in China, has seen him make a fortune both from competitions and commercial sponsors.
He also told the media of his new house in Sheffield after Sunday's victory.
"I bought a house in Sheffield a few days ago and just got the key. I will have my snooker table in the garage and I can train there if I'm not at the snooker academy. Snooker is more important to me and I can put my car outside," he said.
A world championship semifinalist last season, Ding trailed Selby 2-1, but hit back to seal a confident victory after building a 5-3 interval lead. Selby, who knocked out Ronnie O'Sullivan in the semifinals, reduced the deficit to 5-4 but the Chinese player immediately restored his two-frame advantage with a break of 83.
Selby took the next frame with a break of 91, but Ding's first century of the tournament, a 124, meant it was 7-5 at the mid-session interval.
He knocked in a 130 to go to 8-5 but Selby clung on with a clearance of 145 - the highest break of the tournament - to trail 6-8.
The next frame was tight but Ding prevailed to land his first ranking title of the season.
"Mark missed a chance to go 3-1 up but he's very good and I'm very happy to win," said the champion.
Asked if the victory gave him hope ahead of the world championship, Ding said: "I'll practice very hard. I got to the semifinals last year and hope to do better this time."
Ding lost his semifinal to Britain's rising star last year, Judd Trump, but he said he is more confident this time.
"I have a better chance to win if I can make it to the final," he said.
With this new title, the player from Wuxi in Jiangsu province has won more ranking events than all other Asian players combined. Thailand's James Wattana has won three and Hong Kong's Marco Fu one.