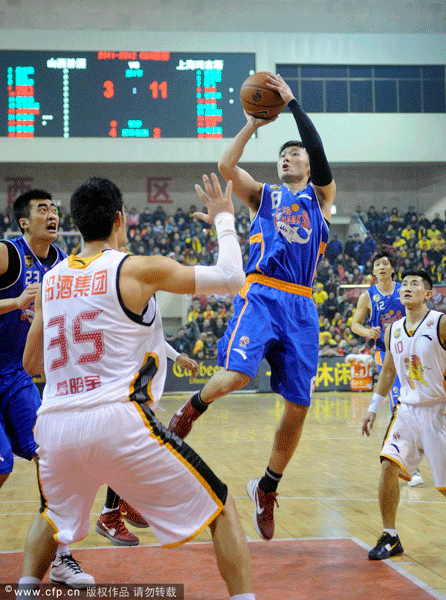 Liu Wei of Shanghai Sharks shoots in front of Ge Zhaoyu of Shanxi in a CBA playoff game between Shanghai and Shanxi on Feb.27, 2012.
The Shanghai Sharks remain in the Chinese Basketball Association playoffs following a sensational second-half performance last night that saw them come back from being almost 20 points down at halftime to beat the Shanxi Dragons 101-99 in Taiyuan.
The Sharks started strongly in a game they knew they had to win but Shanxi, which was getting strong performances from its Chinese players, continued to keep the game close. The lead changed hands regularly until Duan Jiangpeng suddenly caught fire from three-point range and the Dragons let their guard's hot hand guide them to a 59-45 lead at the halftime break.
Down 1-2 in the series, things looked ominous for Shanghai when it returned to court after the interval but an obviously pumped-up Sharks team never gave up and dragged its way back into contention thanks to the sheer determination of Liu Wei, Marcus Landry and Mike Harris. Although Duan continued to convert his shots from long range, his teammates were not being anywhere near as clinical with their shooting while Shanghai was getting closer and closer to tying the game with every possession.
As the game entered its final two minutes, the Sharks' brilliant comeback was completed after a three-point shot from Landry gave them the lead and silenced the previously vocal home crowd.
The scores were tied at 99-99 soon afterwards when Charles Gaines dispatched both of his efforts from the free-throw line but with only 20 seconds left, the Sharks looked the calmer side. With the game on the line, Landry then had the patience to wind the clock down and with seven seconds left, charged into the paint, drew the foul and dispatched both his free throws to give the Sharks a two-point lead.
A shell-shocked Dragons side then blew its chance to save the game when Marcus Williams miscued his effort from long range and Harris hauled in the rebound to ensure an improbable victory for the Sharks.
Landry scored 24 points, while Liu (23), Harris (22) Zhang Zhaoxu (12) and Wang Yong (11) all made crucial contributions for the Sharks. Despite, Duan's game- high haul of 36 points that included eight three-pointers, the Dragons must now come back to Shanghai for Game 4 of this series against a suddenly-rejuvenated Sharks outfit.
In other CBA results, the Guangdong Tigers beat the Fujian Sturgeons 137-106 to advance to the semifinals after winning their series 3-0. The Beijing Ducks beat the Guangsha Lions 105-91 to book their place in the last four of the competition while the Xinjiang Tigers now have a 2-1 lead after winning 119-115 against the Dongguan Leopards.