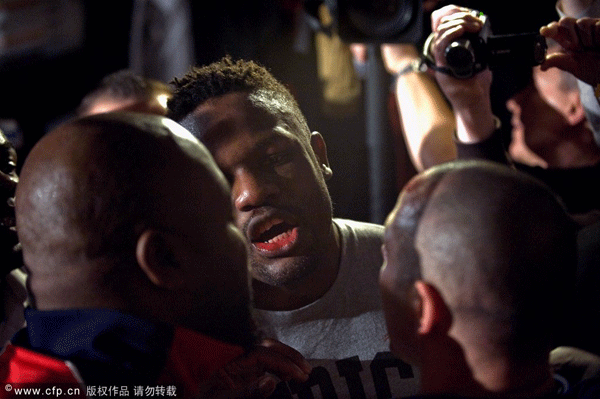 Dereck Chisora (C) talks with a bloodied David Haye's manager Adam Booth (R) after a brawl had taken place between Chisora and Haye at the press conference following the WBC Heavyweight World Championship fight between Vitali Klitschko of Ukraine and Dereck Chisora of Great Britain at Olympia Halle in the early hours of February 19, 2012 in Munich, Germany.
The WBC suspended British boxer Dereck Chisora indefinitely following his brawl with former WBA champion David Haye after a title fight against Vitali Klitschko in Germany.
The WBC harshly criticized Chisora's conduct before and after the February 18 fight, saying it "is considered one of the worst behaviors ever by a professional boxer."
Chisora slapped Klitschko in the face during the weigh-in for the WBC heavyweight bout, then spat water on his brother Wladimir's face. After he lost a unanimous decision, he responded to Haye's taunts during his news conference by starting a brawl.