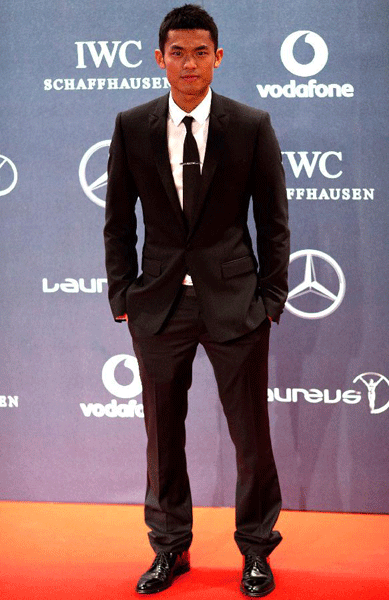 Chinese badminton player Lin Dan poses for photographs at the 2012 Laureus World Sports Awards in central London, Britain, Feb. 6, 2012. [Xinhua/Tang Shi]
World and Olympic champion Lin Dan roars into Birmingham on a high this week keen to retrieve the All England title he had once all but made his own.
The Chinese crushed Indonesia's Simon Santoso 21-11, 21-11 to win the German Open on Sunday, breezing through the tournament without dropping a game.
Super Dan to his fans, Lin has already won the All England, badminton's oldest title, four times. But, as ever, world No. 1 Malaysia's Lee Chong Wei lies in wait for his big rival.
Lee lost a stunning world title final to Lin in August but beat Lin in last year's All England final and again in the Korean Open in January.
However, the 29-year-old has still to win gold at Olympic or world level and, with retirement set for 2013, his focus is clear. He told reporters after his Malaysian Open triumph in January: "I have set my sights on winning the country's first Olympic gold medal."
Lin Dan, looking healthy and fit in Germany after various injury scares in the past 18 months, starts his campaign in today's opening day against India's Ajay Jayaram. Lee faces unseeded Chinese Wang Zhengming. Denmark's Peter Gade, an All England winner back in 1999, battles on bravely at the age of 35 and is seeded four, just behind ever improving Chinese Chen Long.
With time running out for Olympic qualifying points virtually every top player will be in Birmingham where home fans will be roaring on the exciting mixed doubles pair of England's Chris Adcock and Scotland's Imogen Bankier.
The duo surpassed all expectations to reach the world final in August only to lose to China's world No. ones Zhang Nan and Zhao Yunlei.
But Adcock and Bankier got revenge in the Korean Open and are up against the Chinese again in a first round match today.
"We learnt a lot at Wembley and we had a very specific game plan which we implemented extremely well in Korea," said Bankier.
"I think that just shows the worlds were not a fluke and if we can make a final there and go on and beat the No. 1 pair in the world I'd say our chance in the Olympics look very good indeed."
The All England championships, which date back to 1899, have been staged at the National Indoor Arena in Birmingham since 1994.