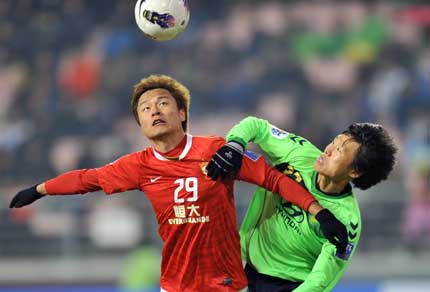 China's Guangzhou Evergrande forward Gao Lin (left) vies for the ball with South Korea's Jeonbuk Hyundai Motors defender Park Won-jae (right) during their Group H AFC Champions League in Jeonju ,South Korea.
Guangzhou Evergrande emphatically signaled their AFC Champions League intentions as Brazilian striker Cleo and Argentinian midfielder Conca each scored twice as the Chinese Super League champions stunned last year's runners-up Jeonbuk Hyundai Motors at Jeonju World Cup Stadium on Wednesday.
Two goals from Brazilian striker Cleo and another from Argentine midfielder Dario Conca gave the visitors a 3-0 lead before Jeong Shung-hoon replied for the South Korean team in the 70th minute.
Conca scored his second for Guangzhou two minutes later and Brazilian forward Muriqui wrapped up a convincing Group H win in the 75th.
It was a wonderful match because we were able to score five goals," said Guangzhou's Korean coach Lee Jang-soo.
"But this is not the end, it is just the beginning. There are still five matches to play and we have to be ready for all of them."
Liaoning is the only Chinese club to lift the trophy back in 1990 but Guangzhou is aiming to end that run.
In 2011, Guangzhou kicked off the new era in China by embarking on a massive spending spree that helped the team win the domestic title for the first time and by a margin of 15 points.
Also in Group G, Chinese side Tianjin Teda and Central Coast Mariners of Australia drew 0-0 in China.