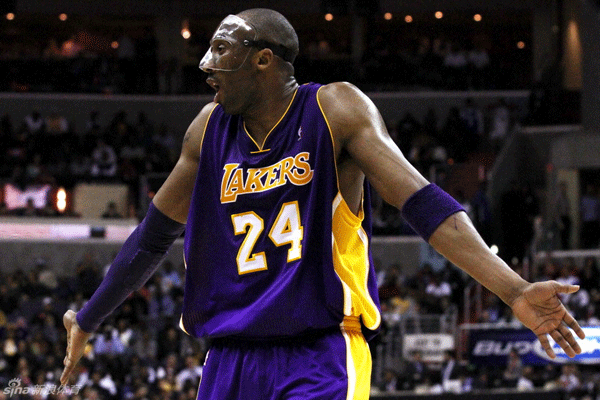 Kobe Bryant reacts in Lakers' loss to Washington Wizards on Mar. 8, 2012.
Roger Mason led a spirited fourth-quarter comeback and Kobe Bryant lost his shooting touch down the stretch as the host Washington Wizards rallied from a 21-point deficit last night to stun the Los Angeles Lakers 106-101.
Mason hit three 3-pointers in the fourth quarter, turning what had been a pro-Lakers scene into an unusually raucous show of home support for a team that is 20 games below .500. The same arena that rocked to "M-V-P!" for Bryant in the first half was bellowing "Beat L.A.!" in the final minute.
Nick Young scored 19 points for the Wizards, who beat the Lakers for the first time since 2006 - a stretch of nine straight losses. Trevor Booker had 18 points and a career-high 17 rebounds, and Kevin Seraphin scored a career-high 14 points on 7-for-8 shooting.
Mason also finished with 14 points, and John Wall had nine assists to help make up for four points on 1-for-8 shooting.
Bryant scored 30, but he went 1 for 10 from the field in the fourth quarter. Pau Gasol had 19 points and 15 rebounds, and Andrew Bynum scored 19 points for the Lakers, who dropped both ends of a road back-to-back.
Spurs 118, Knicks 105
At San Antonio, Tony Parker scored 32 points as the Spurs dealt the sliding Knicks a third consecutive loss.
Tim Duncan and Manu Ginobili added 17 points apiece in Ginobili's second game back after missing two weeks with a strained stomach muscle. Like the Knicks, the Spurs are finally at full strength again, but are doing a far better job of blending rotations and fitting all their pieces together.
The Knicks have lost six of nine. They bear little resemblance to their Jeremy Lin-inspired resurgence before the All-Star break, and booting Landry Fields from the starting lineup before the game didn't help much.
Anthony led New York with 27 points. Lin had 20.
76ers 103, Celtics 71
At Philadelphia, Evan Turner scored a career-best 26 points, helping the 76ers rout the Celtics to maintain their lead in the Atlantic Division.
Before tip-off, Turner denied a radio report that a mystery problem was causing his inconsistent play. Then Turner went out and proved he's just fine. He shot 11 of 19 and grabbed nine rebounds.
Six Sixers scored in double figures, including Elton Brand (18), Lou Williams (15) and Nik Vucevic (14). Vucevic's 12 rebounds were a high for the rookie. Andre Iguodala had 10 points, eight assists and seven boards.
The Sixers, a surprise contender a month ago, had lost eight of 10 to drop their lead in the division to one game over Boston, which had won five in a row.
Jazz 99, Bobcats 93
At Charlotte, Al Jefferson had 31 points and nine rebounds as the Jazz controlled the paint, where they outscored the Bobcats 54-36 and outrebounded them 43-34.
Jefferson was 11 of 19 from the field and hit all but one of his 10 foul shots in a dominating inside effort. Paul Millsap scored 16 points while Derrick Favors added 14 points for the Jazz, who won for just the fifth time this season on the road.
The victory helped pull the Jazz back to .500 at 19-19.
Corey Maggette scored 25 points to lead the Bobcats, who failed in their quest to win back-to-back games for the first time this season. It's the third straight 20-point game for Maggette, who's averaging 19.7 points per game over the last 10 games.
Raptors 116, Rockets 98
At Toronto, DeMar DeRozan scored 23 points as the Raptors used a rare offensive outburst to beat the Rockets.
Linas Kleiza added 19 points while Jose Calderon had 17 points and 12 assists for the Raptors, who wrapped up a 2-2 homestand with one of their strongest games of the season. Toronto set season highs in points and shooting percentage (59.2) while overcoming a shaky third quarter by dominating the weary Rockets over the final 12 minutes.
Leandro Barbosa added 15 points and Amir Johnson had 14 for the Raptors.
Chandler Parsons scored 17 points to lead the Rockets, who have dropped five straight in Toronto, and five in a row overall.