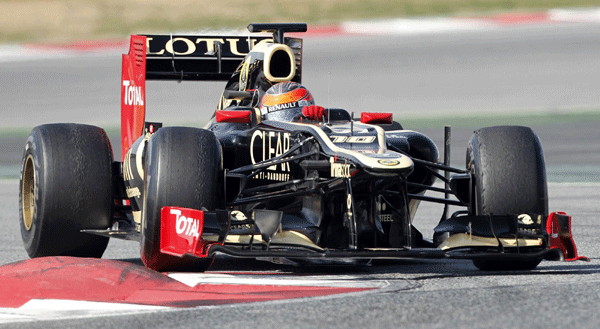 Lotus Formula One driver Kimi Raikkonen of Finland takes a curve during a training session at Circuit de Catalunya racetrack, in Montmelo, near Barcelona, March 1, 2012. [Photo\Agencies]
Will Kimi Raikkonen's return to Grand Prix racing with the Lotus F1 Team be a happy affair? That has to be the question most difficult to answer ahead of the new season.
The Finn has always been something of an enigma. He wasn't able to speak English very well when Steve Robertson first met him at a wet Donington Park circuit a dozen years ago and agreed to fund his first steps in car racing. And he doesn't say much now, preferring to let his driving do the talking.
Kimi will, we suppose, want to make a point to Ferrari about being dumped - to make way for Fernando Alonso - just two years after winning the 2007 world championship with the Italian team.
But he probably doesn't care. Usually, he doesn't. When asked by the BBC's Martin Brundle (on the grid at the Brazilian Grand Prix in 2006) why he had missed Pele presenting Michael Schumacher with an award, Kimi answered - live to camera - that he was in the toilet (though in more detail). Not to be clever or difficult, but because that was the reason. And because it amused him.
When made redundant by Ferrari, Kimi was one of the most highly paid sportsmen in the world (thanks, again, to Steve Robertson). Preseason testing in Spain last month suggests the past two years in the relative wilderness, literally and metaphorically, of the World Rally Championship have not slowed him down by much.
But even the great Michael Schumacher has failed to impress in his own "second career" being outpaced consistently by Mercedes teammate Nico Rosberg. In the first year, we were told Michael needed time to get back into the swing of things, that the new Pirelli tired suited him less well than the Bridgestones on which he had won five of his seven championships. Yet year two was little better, and it's difficult to imagine the 43-year-old faring much better in 2012 (nor retaining his seat beyond the end of this year).
Kimi has the advantage of a less established teammate. Romain Grosjean raced before for the team (when it was called Renault) as a mid-season replacement for Nelson Piquet Jr (after the Singapore "crashgate" scandal) in 2009. This was not successful, and the Swiss-born Frenchman stepped back to GP2, winning the series last year. If he is as good as he has looked in F1's feeder series, the 25-year-old will be difficult for Raikkonen to beat.
The remaining question then is for which positions Raikkonen and Grosjean will be fighting? Over the past two years, the new owners have instigated numerous, sometimes controversial, changes at the squad that carried Alonso to the drivers' titles in 2005 and '06. The E20 (the 20th car produced in Enstone, England) seemed quick in Barcelona and Jerez last month but, with fuel levels unknown, it's a brave man who places his bets based on testing times. The only thing we know for sure is that the Iceman is back and, for now at least, he's smiling.