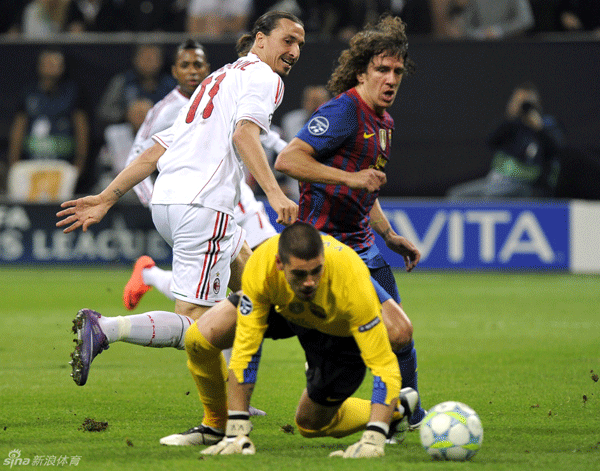 Zlatan Ibrahimovic of AC Milan in action against Carles Puyol and goalkeeper Victor Valdes of Barcelona during their UEFA Champions League quarter-final first leg at San Siro on March 28, 2012.
AC Milan held Barcelona to a 0-0 draw with their resilient defence in the first leg of the teams' Champions League quarterfinal at the San Siro on Wednesday.
AC Milan survived a prolonged Barcelona onslaught to hold their illustrious visitors goalless, but wasted some chances at the beginning.
A series of sublime Barca attacks produced no end product, while Milan managed to shut out Lionel Messi in red-hot form, though, to give themselves hope for the second leg at the Camp Nou.
Barcelona head coach Pep Guardiola criticised the notorious San Siro turf as "not suited to a football match".
"We knew Milan's quality and not scoring in the away leg is a bit damaging for us. The pitch was slippery and it was difficult to play," he said.
"It is always a pleasure to play at San Siro. It's just a shame that this pitch is not suited to a football match. Inter and Milan both deserve a better playing surface," he added.
His Milan counterpart Massimiliano Allegri said his side drew strength from the draw with Barcelona.
"We defended in a very organized fashion. We must be happy with the result," he said. "Barcelona have scored in almost all their games, so I must compliment my lads for doing so well. It will be very tough in Spain, but this result gives us strength."
Milan should have been ahead just after the kick-off as Robinho found himself in space in the area, but he was unable to keep his close-range volley down.
Barca began to take control of the game, and Alexis Sanchez felt he should have been awarded a penalty as he went down following contact from goalkeeper Christian Abbiati, but the officials did not agree. Lionel Messi had the ball in the net soon afterwards, but the flag had already gone up for offside.
Barca continued to dominate the match, and Sanchez had a good opportunity as he burst clean through only to be denied by a last-ditch Luca Antonini tackle.
Chances in the second half were few and far between, but Abbiati had to make a smart save from Lionel Messi in the 88th minute and Antonini superbly blocked Cristian Tello's follow-up effort.