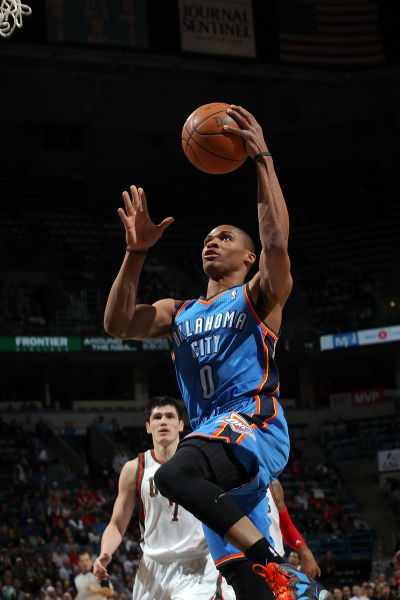 Russell Westbrook lays up in Thunder's win over Bucks on April 10, 2012.
The Oklahoma City Thunder regained the top spot in the Western Conference in some style on Monday after blasting the Milwaukee Bucks 109-89.
The Thunder had sat atop the West for most of the season but an 11-game winning streak from surging San Antonio put the Spurs percentage points in front heading into the night.
The teams flipped positions after Oklahoma City took care of its business in Milwaukee and the Spurs later lost 84-91 at the Utah Jazz after deciding to rest key veterans Tim Duncan, Tony Parker and Manu Ginobili.
The Thunder (42-15) cruised behind 26 points from Russell Westbrook and 19 from Kevin Durant as it raced out to a 35-18 first-quarter lead which it never looked like relinquishing.
"That's what you're supposed to do," Westbrook told reporters. "If you want to be able to win championships in this league you've got to be able to come out every night, regardless if it's home or on the road, to impose your will on teams."
The Bucks (28-29) are trying to close in on the last playoff spot in the East but fell 1 1/2 games behind eighth place after a frustrating night where they earned five technical fouls, including two for forward Larry Sanders who was ejected.
The game featured some tense moments, including a first-half confrontation between Mike Dunleavy and the Thunder's Serge Ibaka, who grabbed Dunleavy's arm as the two went face-to-face and were both assessed technicals.
Milwaukee could not turn its passion into production, however, and it was outmatched in every department. Ersan Ilyasova had 18 points but the hosts got little out of trade acquisition Monta Ellis, who made just 3-of-12 shots for nine points.
Elsewhere in the National Basketball Association, it was: Lakers 93, Hornets 91; Grizzlies 94, Clippers 85; Pacers 103, Raptors 98; Wizards 113, Bobcats 85; Magic 119, Pistons 89; Suns 114, Timberwolves 90; Nuggets 123, Warriors 84; and Rockets 94, Trail Blazers 89.