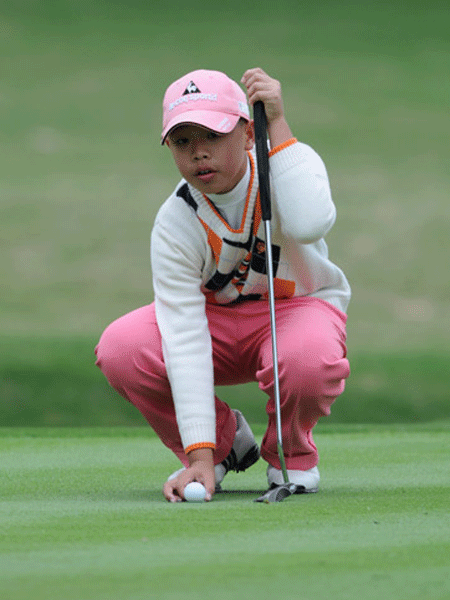 Guan Tianlang. [File photo]
Chinese golf prodigy Guan Tianlang, 13, is not content with smashing the record as the youngest player in a European Tour event ---- he wants to make the cut, and reach this year's US Open too.
The world junior champion will enter the history books when he plays this week's China Open, which starts today in Tianjin, aged 13 years and 177 days - beating the record of Lo Shih-kai, who was 13 years and 280 days old at the 2003 Hong Kong Open.
Guan, who was given last-minute clearance by the China Golf Association, has set his sights on becoming the youngest to make the cut, and he also wants to reach this year's US Open, via qualifying.
"My goal for this week is to try to make the cut. Long term I was the youngest player to win the China amateur championship and it would be nice to be the youngest to win the (Volvo China) Open," said Guan, who was born in Guangzhou, Guangdong Province.
Guan, who started playing when he was just four, claimed the world junior crown last year in San Diego by 11 shots on the back of a first-round 63, featuring nine birdies and no bogeys.
At Tianjin Binhai Lake Golf Club, he will compete in the same field as England's Ian Poulter, who finished seventh at this month's US Masters, and fellow Ryder Cup star Paul Casey.
"I am really excited about playing. This is my biggest event and I really want to do well," Guan said in fluent English.
"I have never played on this course before until (Monday). It is very windy and it might be a little bit long for me.
"I don't know who I will be playing with yet but I would like to play with Poulter. He is a real character player."
Guan's immediate target is the 2008 record of Jason Hak, who made the cut at that year's Hong Kong Open aged 14 years and 304 days, beating the earlier mark set by Sergio Garcia.
But despite his heady ambitions, Guan said he was keeping on top of his schoolwork.
"I don't have a problem with school and golf. Actually, I do quite well at school and I am in the top section of my class," Guan said.
China Open operations director Alistair Polson said Guan was capable of making the cut in the field of 156, describing him as mature and talented.