Manchester United and Everton fought out an astonishing 4-4 draw spiced with some outstanding goals at Old Trafford yesterday as United blew the chance of moving eight points clear of Manchester City at the top of the English Premier League.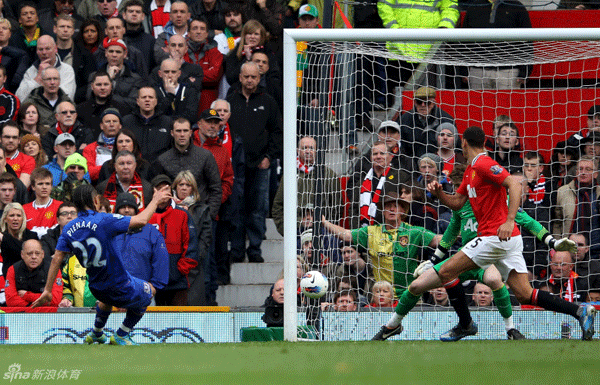 Steven Pienaar steers home the crucial equaliser for Everton.
City can now close the gap on United to three points with a win at relegation-bound Wolverhampton Wanderers later and, if it wins there as expected, the title will almost certainly be decided when United visits City next Monday.
With three matches to play United has 83 points, six more than City which has four games to play before it took the field at Molineux.
United manager Alex Ferguson told Sky Sports that Monday's game was shaping up as the most important Manchester derby United had played in his 25 years at the club. "We've given them the initiative, there is no question about that, and it makes the game at the Etihad the decider really. We have made it hard for ourselves, but we have to go there knowing we are capable of getting a result."
Everton manager David Moyes was naturally ecstatic that his side had avoided defeat after trailing by two goals twice and losing in an FA Cup semifinal to Liverpool last weekend.
"We were absolutely brilliant. We came here trying to win the game and get a result. We were down after losing last week and had the chance today to do well and stop people thinking our season was over."
Everton opened the scoring with a superb Nikica Jelavic header after 33 minutes, but the Toffees trailed 1-3 and then 2-4 before salvaging a point with a Steven Pienaar equalizer six minutes from time. It was the sixth goal in a 25-minute second-half spell.
United wiped out Everton's lead and went 3-1 ahead with a header from Wayne Rooney against his old club, a superb curling shot from Danny Welbeck and a dink over goalkeeper Tim Howard after great build-up play by Nani with 60 minutes gone.
Marouane Fellaini made it 3-2 after 66 minutes with an unstoppable volley before Rooney struck with a low, swerving shot to make it 4-2 after 69 minutes. Like Rooney, Jelavic scored his second of the game to make it 4-3 after 83 minutes before Pienaar completed the scoring a minute later.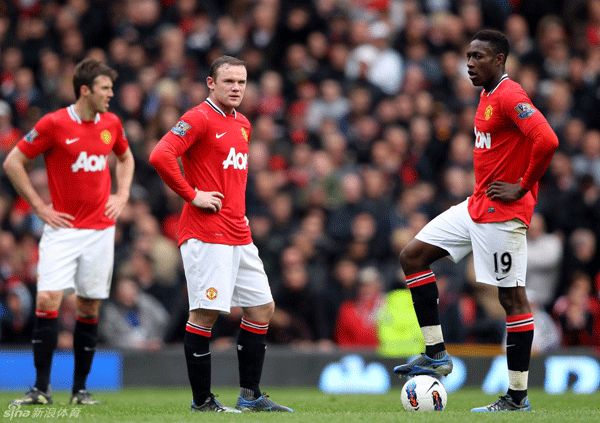 Rooney and Welbeck look dejected after conceding the fourth.