Jamaican track star Usain Bolt could win four track golds at the Olympics after admitting he may run the 4x400 meters relay.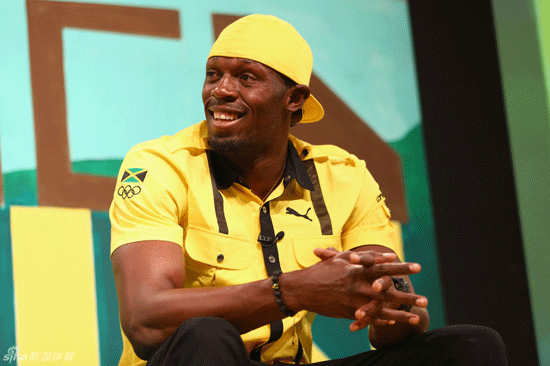 Usain Bolt attends a press conference at London.
The 25-year-old comes to London as the defending champion in the 100 and 200m as well as the 4x100m relay. But he hasn't ruled out the 4x400m relay as well.
"I always see how I come out of the 200m before I decide, like if I'm tired etc," said Bolt, who will carry the Jamaican flag at the opening ceremony.
"If I feel up to it, why not? For my country I would always do what is necessary.
"It all depends what is needed from me because at the end of the day it is about the team. However, there are limits and the individual 400m no chance."
Bolt, one of global sport's most marketable personalities, said that his mind was not on the times he would run but his ultimate goal of being termed a legend - that would only come if he defended his titles. However, he admitted that should he miss out on his goals at the Games then it would not be a catastrophe.
"I don't think it will be the end of the world if I lose," said Bolt.
"I would definitely be disappointed if I was second. Mentally though I am always strong. I have a great team around me who keep me on track.
"I don't think I should be talking about losing anyway as there are friends of mine who will not appreciate that."
Bolt, who also secured triple gold at the 2009 world championships in Berlin, admitted losing in both the 100 and the 200m at the Jamaican Olympic trials to training partner and 100m world champion Yohan Blake hadn't been the best preparation.
The Olympic champion said a bad back has been causing him hamstring problems. "It was a slight problem. I got that fixed and I'm ready to go," Bolt said.
"I can't determine what fitness I was at. I wanted to be at my best level but I wasn't. I can't complain. It's always a wake up call when you are beaten. However, I'm alright I've got used to it."
Bolt's greatest barrier to winning in London is training partner Blake but he was at pains to say that they remained friends and still followed the same training routine.
"Me and Asafa (Powell) are still good friends after years of competing closely against each other," he said.
"So my relationship with 'The Beast' (Blake) won't change at all.
"People were saying I was training early in the morning and Blake in the evening, but that's not true. We do everything or nearly everything (together). Training hasn't changed, only the atmosphere at competition."