China's Xu Lijia claimed another gold medal for China with victory in the Laser Radial Sailing class.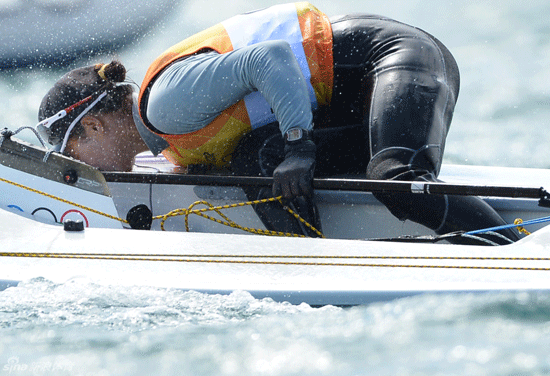 Xu Lijia kisses her boat after winning the gold.
Xu, Evi Van Acker, Annalise Murphy and Marit Bouwmeester all had a serious chance of claiming the title this afternoon.
Only one point separated the quartet and Murphy got off to the best start in the medal race as she rounded the first mark in the lead.
The Irish sailor, though, dropped down to ninth during the second leg as Xu moved into the lead, despite being forced to do a penalty turn.
Xu was still ahead around the third and fourth marks, although Bouwmeester pulled herself up from eighth to third in the penultimate downwind leg.
The Netherlands sailor could not jump above Xu or Great Britain's Ali Young, though, and rounded the fifth mark in the same position.
Belgium's Van Acker moved ahead of Murphy in that final upwind and remained ahead for the remainder of the race to take bronze.
Further up the fleet, Bouwmeester was unable to find a way past Xu in the latter stages so took silver.