Chinese athletics icon Liu Xiang is determined to erase memories of his traumatic experience at the Beijing Games and regain his 110 metres hurdles Olympic title in London.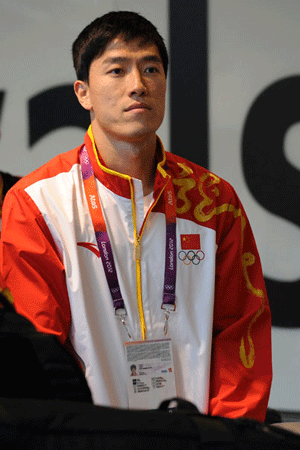 Liu Xiang.
He will be looking to throw down the gauntlet to his major rivals -- world record holder and defending champion Dayron Robles, and the leader in the event this season Aries Merritt when the heats get underway on Tuesday.
Four years ago, the 29-year-old left Chinese fans devastated when he turned up for his heat but failed to jump a hurdle, pulling out because of an Achilles problem and has continued to be plagued by injuries ever since.
He has shown some of his old form, though, and was desperately unlucky not to win the world title last year, being hindered twice by Robles's trailing arm, which led to the Cuban being disqualified form gold with Liu being bumped up to silver.
This year all seemed to be well set as he won a succession of races before his preparations were interrupted by a back problem which forced him to withdraw from the final at the London Diamond League meeting on July 13.
That ailment has now apparently been remedied but his coach Sun Haiping has revealed he has another problem which manifested itself when they went to Germany to fine-tune their build-up.
"His back problem is nothing to worry about, but his foot injury which has flared up is worrying me," Sun told Xinhua agency when they arrived back in England last Friday.
"We are confident despite the injury. Just a little bit worried," added Sun somewhat confusingly.
Little has been seen of Robles this year with first an injury to his lower back and then to his lead leg continually delaying his return to the track.
However, his coach Santiago Antunez remains confident he will become the first champion to successfully defend his title since American Roger Kingdom did in 1984 and 1988.
"He (Robles) is the Olympic champion, and the fastest in the world in the event," said Antunez.
"If he loses in London in what is a really tough competition it will be because of a problem that occurs on the day."
In contrast to those two Merritt has been a picture of health and has also been in outstanding form dating back to early in the year when he won the 60 metres hurdles indoor world title.
The 27-year-old, though, had not until this year delivered on his outstanding college career and that lack of top championship experience may prove to be his Achilles heel.
However, he discounts that.
"I have a lot of momentum going in, and I'm excited," he told USA Today.
"But I'm not feeling pressure because I don't think I have anything to prove. If I just do what I've been doing all season, something special will happen," added Merritt, who has run the fastest time this year of 12.93 seconds on three occasions.
Aside from that much anticipated event the men's 200 metres will get underway with France's Christophe Lemaitre hoping his decision to skip the 100 metres pays off.
Four golds will be decided -- the women's 100 metres hurdles, the men's discus, high jump and 1500 metres.