China's Chen Yibing, nicknamed "king of rings" failed to wrap up his career Sunday with an Olympic gold on his specialty, but a silver from disputed scoring is shining the gold light.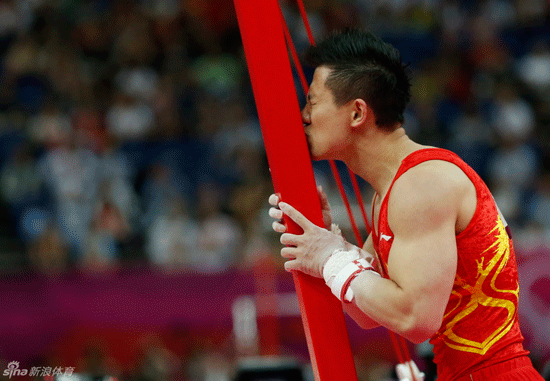 Chen kissed the red frame of the apparatus after his routine.
Chen, 28, was highly preferred to become the third gymnast to win two Olympic gold medals in this event after Albert Azaryan of Soviet Union in 1956 and Akinori Nakayama of Japan in 1968 and 1972.
A surprising and much disputed score of 16.900 for the last routine from Arthur Nabarrete deprived Chen of the gold and also a career closure in glory.
Chen started the final with an accurate routine of sound execution and stable landing, earning 16.800 points. The concluding routine from the Brazilian was finished in a stumbling landing, but the score for him is decent to beat Chen as the two shared the same difficulty of 6.8.
Bulgaria's six time Olympian Iordan Iovtchev, 39, was suspicious of the scoring. "Personally, I think Chen performed the best, but I'm not the judge," said Iovtchev, who finished seventh in the final.
Italian coach Maurizio Allievi echoed Iovtchev's point of view. "I don't think he (Nabarrete) did quite good on the rings. He not only made a step forward in his dismount, but some flaws can be found on his skills in supporting his body," said Allievi.
"He can't match with Chen and Morandi (bronze medalist) at all. Chen is better than Morandi in his routine execution," said he, adding a jump in Morandi's dismount is regretful and cost him points.
Igor Cassina, a TV commentator from Italy, was surprised by the points for Nabarrete. "It never should have been so high for the Brazilian. It's too high," said Cassina.
It's also a bitter result for Chen. "It's a surprise to me and I feel bitter inside," said Chen, who kissed the apparatus after his routine as a way to say good bye to Olympic stage.
"But what can I do? According to rules you can question only the points to yourself, you are not allowed to question point to other competitors," explained Chen.
"You can raise dispute only for your difficulty, but not for execution. It's a result you can only accept instead of reasoning."
Chen, dominant in the apparatus since he made a sensation victory at 2006 worlds, has won gold in his specialty at four of the past five world championships. His four world championship golds rank him only second to Italy's Yuri Chechi, who has five.
After its seven-gold-medal performance at the Beijing Games in 2008, the Chinese men's gymnastics team was hit with a wave of retirements.
There have been times in the ensuing years when Chen Yibing wished he would've been among them.
And yet here he is, the defending champion in the rings and the team competition, back in London as the core of a young team.
Chen admitted he's worried he'll end his career on a sour note prior to the London Olympic Games, and it turned out to be a controversial scoring to make a great story sour.
Chen is set to retire after the national games next year and will finish his graduate courses in the Beijing Physical Education University.
Before the rings final, Chen, as the team captain, had propelled China to defend the team title.