Chinese boxer Ren Cancan is just a victory away from being crowned an Olympic champion when she defeated Marlen Esparza of the United States 10-8 in the women's 51-kg boxing semifinals at the London Games yesterday.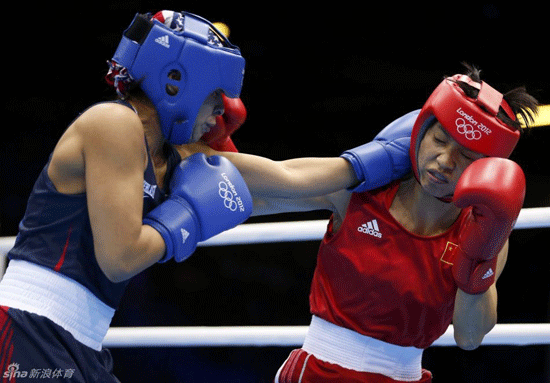 Ren Cancan beat Marlen Esparza of the United States to progress to the final.
Ren, the current world No. 1, established a three-point lead in the first two rounds but was outscored 2-1 in the third round.
In the final round they fought fiercely to level it at 2-2, a result that allowed Ren to progress.
"We met at the world championships," said Ren. "She is a very strong fighter, and I just stayed on my own routine and enjoyed the match."
Ren will face-off against home favorite Nicola Adams, who eliminated Indian veteran Mary Kom 11-6 in the other semifinal.
"This is her home court. She has an advantage, and also more pressure, so I just need to stay focused," said Ren.
Adams, who lost to Ren at the worlds, said she is eager for revenge this time.
"I am going to do everything exactly the same and treat it like a regular tournament, but hopefully the crowd will give me a boost and I can get that gold."
Bronze medalist Mary Kom apologized for not bringing home gold.
"My whole country was hoping for me to win a gold medal, and I am sorry I have not come back with that," said Kom, who had to move up a weight category to fight in London.
Kom is India's only boxing medal success of the London Games so far.