Gilbert Arenas is back and the Shanghai Sharks finally managed a win - 107-104 over the visiting Xinjiang Flying Tigers yesterday.
Arenas scored a game-high 37 points on his return from injury. Skipper Liu Wei added 29 points and eight assists, including two free-throws in the last seconds of the game to seal the match.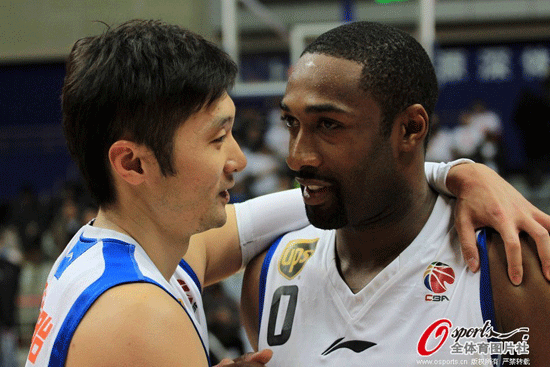 Liu Wei and Arenas celebrated Shanghai's victory over Xinjiang in a CBA match on Jan.13, 2013.
Arenas, who arrived in Shanghai on Friday after receiving treatment on his groin in the United States, came out of bench yesterday and did not seem affected by the lay off.
"It's my first real game," said the former NBA All-Star guard. "That's what I do, score."
Arenas came to life in the second half, giving the hosts more than 10 points lead.
However, a 3,000-strong home crowd watched nervously as Xinjiang came back strong and tied the game at 104 with just 15 seconds left on the clock.
The Sharks held their ground with Liu's free-throws to secure the game and surviving Xinjiang's last-second turnover.
Sharks, sitting in the 16th position in the 17-team league, with 11 games left in the regular season, still faces a difficult task to make it into the playoffs.
The Xinjiang Tigers are however well-placed in sixth with their 12-9 record.
Arenas said he wants to "finish the season strong" despite the "tough season".
Interim head coach Wang Qun added: "We'd rather fall while fighting."
In a lighter vein, Arenas explained the reasons for checking in late for the game.
"Actually I slept all morning at the hotel and was woken up by teammates," said the guard, who "snored" in the locker room as others laughed.
Elsewhere in the CBA, Tracy McGrady scored 38 points as the Qingdao Eagles grabbed their fourth win this season, beating Jilin Northern Tigers 104-96.
Leaders and former champions Guangdong Southern Tigers extended their winning streak to eight after winning 109-101 over Zhejiang Chouzhou.