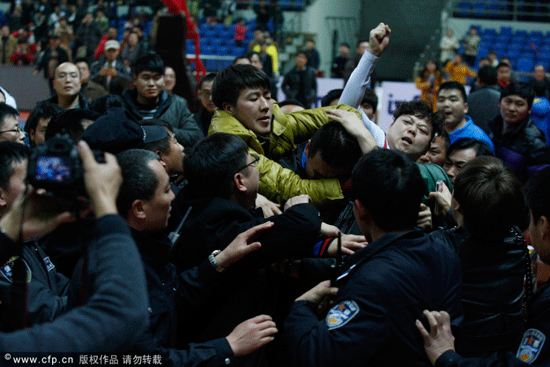 Fans attacked referees after Game 1 of the WCBA Finals between Zhejiang and Shanxi on Jan.29, 2013.
Zhejiang's Women's Chinese Basketball Association team has been banned from using its home arena for one year after fans ran onto the court and attacked referees following the team's 92-96 loss to Shanxi in Game 1 of the WCBA finals.
Shanxi edged Zhejiang 96-92 in a fierce clash in Yiwu, Zhejiang Province, on Tuesday. At the final whistle, a few irate fans rushed towards assistant referee Yang Xiaoguang and started pushing him, which soon turned into a melee with chief referee Cui Zhexiong also targeted. The referees managed to escape with the help of security guards and were stuck in the locker room for 40 minutes.
Although the team apologized on Tuesday night, it was banned by the Chinese Basketball Association from playing in Yiwu for one year. The second and third game of the best-of-five finals will be held in Shanxi tomorrow and on Saturday. Zhejiang will need to find a new home outside Yiwu and apply to the CBA before Monday.