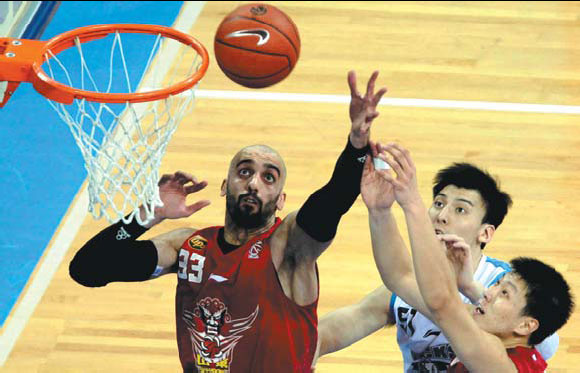 Zaid Abbas (left) had 30 points and 19 rebounds in Shangdong's win over Beijing on Sunday.
As long as everybody's gelling, three good players can do a lot more damage than two.
The CBA's rule allowing the bottom five teams to sign an additional Asian import was created to maintain balance in the league, but so far it's tilting things heavily in favor of Shandong in its semifinal playoff series against the Beijing Ducks.
Thanks in large part to its extra foreigner, Zaid Abbas of Jordan, Shandong stunned Beijing 108-92 in the series opener on Sunday, taking a 1-0 lead in the best-of-five series in front of 18,000 boisterous Beijing fans at the MasterCard Center. The series heads back to Shandong for two games beginning on Wednesday.
Abbas, who played for Beijing and helped it reach the playoffs in 2011, turned out to be a question without an answer for his old club.
Because his minutes aren't limited teams' two non-Asian imports can only play a total of six quarters between them - Abbas spent 45 minutes on the court, providing 30 points, 19 rebounds and five steals despite being consistently double-teamed.
"He returned to Beijing, where he used to be a hero. I think he just had extra energy he wanted to show more to the fans," said Shandong coach Gong Xiaobin. "He played aggressively and helped us on both ends of the floor. He's the major advantage for us (over Beijing)."
After conceding the team's first loss at the MasterCard Center since last year's title run, Beijing coach Min Lulei said Abbas was nearly unstoppable.
"Defensively, he was our priority when we made our game plan. We tried different bodies and strategies - it just didn't work. His rebounding and his moving, (he was) just too tough for us," Min said.
Abbas' energy inspired the other two foreigners, Pooh Jeter and Jackson Vroman, as the US tandem combined for 47 points, 14 rebounds and nine assists.
"When he is scoring and rebounding like he did, it makes everybody want to play harder," said Jeter, a former Sacramento King.
Since joining the CBA in 2009, Abbas has taken three other bottom-five teams (Shanghai in 2009-10, Beijing in 2010-11 and Fujian last season) to the playoffs. The Chinese media have begun calling it "Abbas' Law", meaning any team that signs the 29-year-old will qualify for the postseason.
Abbas' knowledge of Chinese basketball has helped build chemistry between the other two imports and the local players while helping newcomers acclimate to the new culture.
Jeter, in his first year in China, attributed his rapid adjust to Abbas' help.
"We are with each other every day. We hang out together and eat together, the only thing we don't do is sleep together. His knowledge of Chinese basketball has helped me a lot on and off the court," said Jeter, who scored 30 points on Sunday.
He's also been a boon to the younger players
Nineteen-year-old forward Ding Yanyuhang is having a breakout season, as are young guard Sui Ran, 20, and sharp-shooter Li Jingyu, 22.
"With such good foreigners playing team basketball, we have more chances to show our skills. They teach us in practice, and playing games becomes much easier for us," Ding said.
Still, the rule has drawn debate, with mid-ranking teams calling it unfair and some worrying it could lead to throwing games in hopes of grabbing that Asian-import spot for the following season.
But league officials indicated it will continue.
"We are not considering a change of the policy because the current rule is the most suitable for the good of the whole league," said Bai Xilin, director of the CBA competition department.