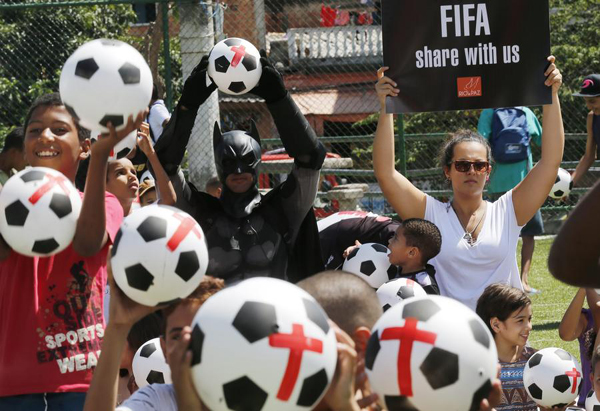 Children and an anti-government demonstrator, dressed as comic book superhero Batman, pose for picture with soccer balls during a protest by non-governmental organization (NGO) Rio de Paz (Rio of Peace) at the Jacarezinho slum in Rio de Janeiro April 5, 2014.
Workers ended a strike at the World Cup stadium in the southern Brazilian city of Curitiba after disrupting traffic for nearly two hours and forcing organizers to accept their demands on Thursday.
More than 100 workers returned to work at the Arena da Baixada after organizers promised to begin paying the salaries owed to them.
The workers had blocked streets outside the stadium, causing problems to drivers trying to get to work in the region.
About 50 workers had been on strike since Monday and more joined the movement in recent days, threatening to halt construction at the already delayed venue and raising concerns about whether it could be finished in time for the tournament.
Curitiba officials said the work stoppage did not significantly affect the stadium's renovation. There are nearly 1,300 workers at the construction site.
"It was just a small group of workers, it wasn't anything major," said Reginaldo Cordeiro, the Curitiba official in charge of the city's World Cup preparations. "They are all back at work now."
FIFA expects the Arena da Baixada to be fully ready in mid-May, about a month before the World Cup opener on June 12 in Sao Paulo. The first World Cup match in Curitiba will be Iran-Nigeria on June 16. It will also host Honduras-Ecuador on June 20, Australia-Spain on June 23 and Algeria-Russia on June 26.
Only electrical technicians went on strike on Monday, but cleaning workers later also joined the movement. Brazilian media reported that some Haitians hired by local companies were among the workers complaining of lack of payments.
The company that was supposed to make the payments said it had not received funds from the government and from Atletico Paranaense, the club in charge of the stadium's renovation. Atletico sent a statement to The Associated Press saying it will "not comment on the subject."
City officials said a solution was reached late Wednesday and all the salaries were being paid again.
Last month, the Parana state government watchdog group recommended a halt on public financing for the rest of the renovation work until organizers could explain alleged irregularities on the stadium's budget.
Organizers held the first test event at the Arena da Baixada in March with Atletico Paranaense playing a friendly in front of about 10,000 fans.
Two other World Cup stadiums are yet to be finished, including the one hosting the opener in Sao Paulo. Part of the work there was stopped because of a recent worker's death. The other stadium yet to be completed is in the wetlands city of Cuiaba.