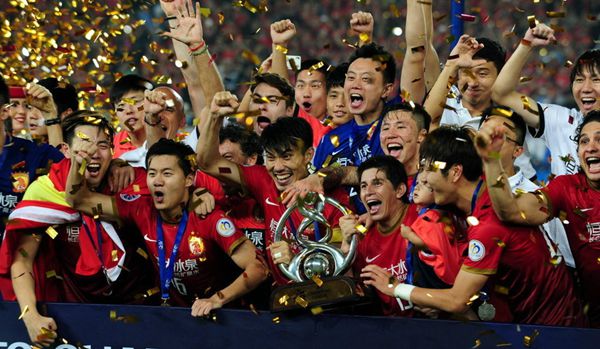 Guangzhou Evergrande have claimed AFC Champions League title two times over the last three years.
Investors, fans and experts have joined in a hot debate after China's Guangzhou Evergrande earned a title as the "richest" club in the world on Tuesday.
The two-time Asian Champions League winner's market value surged to 3.35 billion US dollars on Tuesday, beating Real Madrid and Manchester united as the world's most valuable club.
Its stock continued to go up by 0.36 percent on Wednesday, trade at 55.2 yuan (8.48 US dollars) on the National Equities Exchange and Quotations (NEEQ).
"It is sheer bubble," said netuser Jianjiandandan, who posted on new portal toutiao.com.
On Tuesday, a transaction in the Evergrande's shares on the National Equities Exchange and Quotations (NEEQ) gave it a market capitalization of 3.35 billion dollars on Tuesday.
The implied market value surpassed Spanish club Real Madrid, who ranked first in Forbes' list of most valuable football clubs with a market value of 3.26 billion dollars and Premier League club Manchester United, whose latest market capitalization was 2.35 billion dollars on NYSE.
"The so-called market value has no real significance at all, no on could accept that a Chinese club worth more than the world's most successful clubs like Real Madrid and Manchester united," the net user said.
The deal was traded for 36,000 shares at 55 yuan (8.45 dollars) each, nearly 40 percent appreciation from 40 yuan when the club sold shares in a fundraising two months ago.
Some believe, however, the seemingly overvalued stock price, actually shows a signal of the promising potential of the football industry in this country.
"The government policy will boost the sports industry, and nothing is impossible in the Chinese football market," another net user said.
During the winter transfer window, Chinese Super League clubs have spent 348 million dollars to import some famous internationals in their prime inlcuding Alex Teixeira, Gervinho and Jackson Martinez.
Companies and businessmen have rushed to put money into football since China last year approved a 50-point plan, including building thousands of football academies, cultivating domestic talent and separating the CFA from the government.
"The Chinese football market, based on the world's most population, boosting by the government policy, have the chance to build a larger market than the English Premier league one day," said net user Wukezhiyi.
Some investors believe, it is more suitable to value the club under an internet business model rather than traditional ones.
"With e-commerce giant Alibaba holding 37.81 percent of its shares, the club could be recognized as an internet company," said Liu Jiawei, an investor who runs a private equity based in Guangdong.
Last month, Zhang Dazhong, CEO of Alibaba's subsidiary company Alisports, become a board member of Evergrande club, which triggered the imagination around the market that the club will take bolder steps on e-commerce.
Evergrande, however, started the season slowly only with a draw and two defeats in their first three matches.
"The most important and also the easiest thing to persuade the investors is that the club should continue to go for more titles and keep a high profile," Liu said.