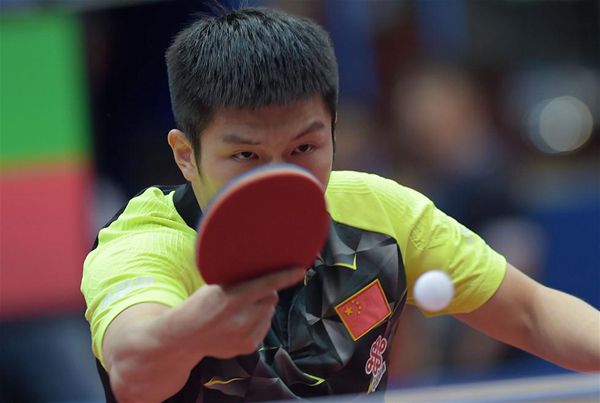 Fan Zhendong returns a ball in men's singles final against teammate Ma Long.
Chinese table tennis players re-stated their dominance as they claimed all four crowns at the ITTF World Tour China Open on Sunday.
China has accomplished the feat as world No. 2 Fan Zhendong eliminated Wong Chun Ting of Hong Kong, China 4-2 in men's singles semifinal. Newly crowned Olympic champion Ma Long defeated London Olympics gold medallist Zhang Jike through seven games in an eye-catching rematch of the final in Rio.
Fan swept Ma in four games in Sunday's final, an encounter between the top two seeds of the tournament. Fan revenged his 4-0 loss to Ma in 2015 World Cup.
Fan will replace Jun Mizutani of Japan on the 2016 edition in Philadelphia, USA from October 1-3.
"The second game was crucial for the win, and made me feel more confident later. It was a process for me to build up my confidence, and I hope that I can do better in major tournaments such as the World Cup," said Fan.
"If I could win one of the opening two games, I would have possibility of winning. Fan deserved the win," commented the Rio Olympic singles gold medallist Ma.
The women's singles title went to another new Olympic champion and Grand Slam winner Ding Ning, as she beat the toughest opponent and world No. 1 Liu Shiwen 4-2, repeating her success over Liu at the 2015 World Championship finale, where she overcame the ankle injury to go through seven games.
After the two players shared the opening four games, Ding took the next two at 12-10 and 11-8 to seal the win.
"We showed a wonderful and intense match. Both of us played to our best selves. Now I'm feeling a little tired," said Ding, shrugging off comment on the Tokyo Olympic Games four years later.
"It was a fresh experience for me to get back into the match after an Olympic journey, but I didn't think that far about the Tokyo Olympics," she said.
"We did our best in this match. Although I lost at last, I thought we had wonderful plays for the crowds," commented Liu.
China has secured two doubles titles as four pairs advanced into both finals a day earlier. Fans favourite Ma Long and Zhang Jike beat Fan Zhendong and Xu Xin 11-8, 5-11, 4-11, 11-9, 11-5 to claim the men's doubles title.
"Trailing at 1-2, we mainly talked about improving our speed. The victory was about concentration," said Zhang.
In women's doubles final, Chen Meng and Zhu Yuling shocked Ding Ning and Liu Shiwen 4-11, 11-3, 11-9, 11-5.
"I was happy for the win, which resulted from our communication and encouragement on the court," said Chen.
Chinese paddlers face a tight schedule ahead as they will participate in the National Championship from September 20 to 28, World Cup early in October, and the China Table Tennis Super League (CTTSL) late in October.