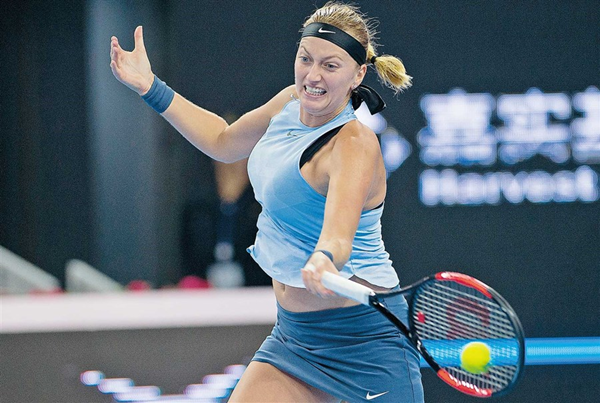 Petra Kvitova hits a return against Caroline Wozniacki of Denmark during their China Open third-round match in Beijing yesterday. The Czech won 6-1, 6-4.
Rafael Nadal said he was braced for the "huge" serve of John Isner after Spain's world No. 1 bulldozed his way into the China Open quarterfinals yesterday.
The 16-time Grand Slam champion Nadal saw off the young Russian Karen Khacha­nov 6-3, 6-3 to set up a clash with Isner in Beijing.
The in-form American, the sixth seed, is renowned for his booming service game and Nadal expects to come under a barrage today.
Isner was impressive in blast­ing his way past Argentina's Leonardo Mayer 6-0, 6-3 and Nadal said: "Tomorrow will be a tough one against Isner, he's playing unbelievably well.
"Isaw him today, he played so aggressive, having a lot of success, hitting a lot of winners, returning very well.
"Everybody knows that he serves huge and it is so difficult to break him.
"But if you add that he is playing very well now from the baseline, he is one of the tough­est opponents you can meet."
Nadal, 31, the top seed and coming off the back of a third US Open title, saved two match points against Frenchman Lucas Pouille in his opener.
But he was always in control on Beijing's outside hardcourts against Khachanov, 21, break­ing him in the fourth game of the first set on the way to a rou­tine victory.
Andrey Rublev ensured a continued Russian presence in the men's draw as he sprang a surprise in fighting back to oust Czech seventh seed Tomas Berdych 1-6, 6-4, 6-1.
Second-seeded Alexander Zverev also advanced to the quarterfinals, beating Italian Fabio Fognini 6-4, 6-2. The Ger­man will take on Rublev next.
In the women's, a heavyweight clash pitched two-time Wimble­don champion Petra Kvitova against Denmark's former No. 1 Caroline Wozniacki.
The Czech Kvitova, seeded 12, stormed through the first set 6-1 and although Wozniacki was better in the second set, Kvitova broke her for 6-4 and will play compatriot Barbora Strycova in the quarters.
Another former world No. 1, fourth seed Karolina Pliskova, became one more high-profile casualty, going out to unseeded Sorana Cirstea.
Cirstea follows fellow Ro­manian Simona Halep into the quarterfinals after the second seed sent Maria Sharapova packing on Wednesday.
Cirstea, ranked 44 in the world, stunned the Czech Pliskova 6-1, 7-5 to reach the last eight.
She will play Latvia's Jelena Ostapenko, the Roland Garros champion, after China's top player Peng Shuai retired with a knee injury at 0-3 down in the first set.
The 31-year-old Peng said she had been having injections to ease the pain and her right knee was heavily strapped, but she could not play on. "The doctor suggested Ishould take a period of rest and get it treated, but Ican only rest after the season, that's the plan," said Peng, ranked 25 in the world.
World No. 1 Garbine Mugu­ruza and reigning champion Agnieszka Radwanska are both out, leaving world No. 2 Halep as the favorite.
Also into the quarters is Caroline Garcia, who defeated French compatriot Alize Cornet 6-2, 6-1 and will play third seed Elina Svitolina of Ukraine.
Garcia is in red-hot form after winning the Wuhan Open on Saturday.
In Tokyo, Milos Raonic picked up another injury yesterday and was forced to retire from his second-round match at the Japan Open.
The 2016 Wimbledon finalist lost the opening game against Yuichi Sugita and then decided to stop while trailing 0-1 be­cause of a right-calf injury. He failed to appear at a scheduled news conference but later is­sued a statement via the ATP.
"Ipicked up a strain to the calf. It's hard to know the extent of it, I'll have to wait because it's too soon to have an exact evalu­ation," Raonic said. "It happened when the score was deuce. Ifelt a sharp pain at the back of my leg. Iwill head home now and get medical attention."
After winning his first match back from a seven-week absence following surgery on his left wrist, Raonic complained that the tennis tour was too demand­ing and called for a review.
The Canadian had withdrawn from five events this year, and conceded walkovers at two others.