Editor's note: The 31st FISU World University Games is scheduled to take place from July 28 to Aug. 8 in Chengdu, the capital of southwest China's Sichuan province. Embracing the principles of "green," Chengdu emphasizes the construction of environmentally friendly and sustainable infrastructure.
Careful consideration has been given to venue planning and construction, taking into account the specific requirements of the Games. Through prudent site selection and planning, the host city aims to maximize the utilization of existing venues. As a result, 36 venues have been renovated and enhanced, while 13 new venues have been strategically designed and constructed. This approach effectively eliminates unnecessary construction and minimizes resource wastage.
The new venues for the Chengdu Universiade incorporate a diverse range of technologies, including innovative architectural techniques, smart energy management systems, and renewable energy sources. These measures are intended to achieve the highest level of venue sustainability, energy efficiency, and environmental protection. Furthermore, the extensive use of green building materials helps reduce construction waste and pollutants, demonstrating Chengdu's unwavering commitment to green, low-carbon, and high-quality development.
Here is an overview of the five main green venues.
Dong'an Lake Sports Park Stadium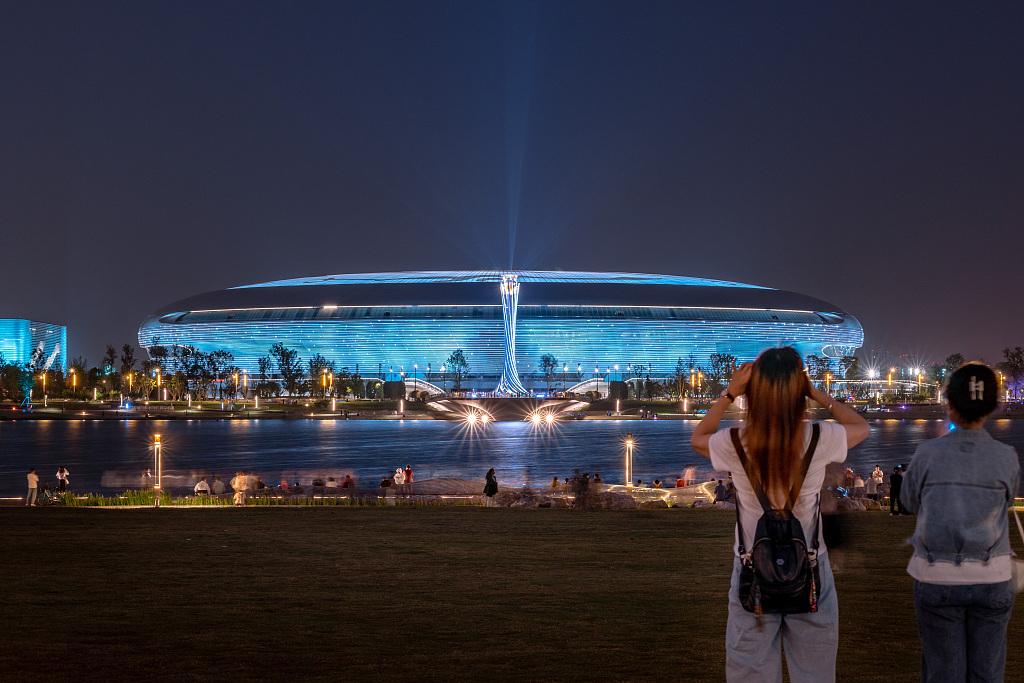 Citizens watch a light show at the Dong'an Lake Sports Park Stadium on May 1, 2023, in Chengdu. [Photo/VCG]

Dong'an Lake Sports Park Stadium serves as the primary venue for the opening ceremony of the Universiade. It comprises a comprehensive sports field with a seating capacity of 40,000, a multifunctional sports arena accommodating 18,000 spectators, and a swimming and diving venue that can hold 3,000 people. Following the principles of green and low-carbon design, it emphasizes the integration of architecture with the surrounding environment, incorporating nine major and 38 minor new technologies in the construction industry. The architectural form is based on the "Sun Bird" from Jinsha culture and has been honored with the China Construction Engineering Luban Prize, the highest honorary award for engineering quality in China's construction industry.