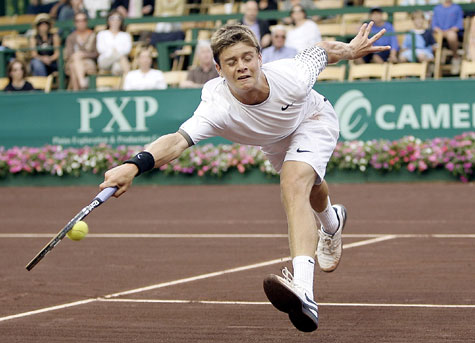 Fifteen-year-old Ryan Harrison stretches as he tries to return a shot against James Blake during the second set of their US Clay Court Championship in Houston on Thursday. Blake beat Harrison 6-3, 6-2.
Top-seeded James Blake beat 15-year-old Ryan Harrison 6-3, 6-2 on Thursday to move into the quarterfinals in the US Clay Court Championship in Houston.
Blake needed just 50 minutes to eliminate the Texas teenager, who earlier this week won his first-ever tour match. Harrison is only the 11th player since the Open Era began in 1968 to win a main-draw match at 15.
"The kid's really good," Blake told the partisan Texas crowd after the match. "There's a lot of good things in store for him."
Blake, who won the final eight points of the match - the last one a deftly placed low forehand crosscourt volley winner - drew a glare from the youngster at 2-2 in the final set. The look came after the second-ranked American player clobbered Harrison with the ball after he had drawn Blake to the net on a drop shot.
Blake said he knew the importance of the point. He was down love-15 on his serve.
"I didn't want to lose it and sometimes that's the easiest way to win the point," Blake said.
Jokingly he added, "A little souvenir to say, 'Welcome to the ATP."'
Blake broke Harrison in the first game of the match and three other times in the first set. Harrison hung in, though, and was able to take the top seed's serve twice in the opening set.
The youngster said he respected Blake's offensive style. "So we were going to try to take that away but that didn't work out so well whenever you miss as many first serves as I did," Harrison said. "I was letting him step around and attack a lot."
Blake will face fifth-seeded Agustin Calleri of Argentina next. Calleri dominated fellow South American Paul Capdeville 6-2, 6-1.
In other matches, American Wayne Odesnik beat Dudi Sela of Israel 6-3, 7-5 to advance to the quarterfinals. Odesnik's opponent will be Sergio Roitman of Argentina, who beat Russian Igor Kunitsyn 6-3, 7-6 (3).
Spaniard Marcel Granollers-Pujol took out Peter Luczak of Australia 6-3, 6-2 to reach the quarterfinals.
In Oeiras, Portugal, Roger Federer overpowered Victor Hanescu 6-3, 6-2 on Thursday at the clay-court Estoril Open to advance to the quarterfinals.
Also in the second round, Jiri Vanek of the Czech Republic beat eighth-seeded Michael Berrer of Germany 6-3, 3-6, 7-5.
In Charleston, South Carolina, Serena Williams set up a quarterfinal match against Maria Sharapova in the Family Circle Cup, overcoming a sprained ankle and sluggish performance to beat Katarina Srebotnik 4-6, 6-4, 6-3.
The second-seeded Sharapova beat Tatiana Perebiynis of the Ukraine 7-5, 6-2. The Russian star, coming off her first clay-court title last week at Amelie Island, is looking for her fourth tournament victory of the year.
Defending champion Jelena Jankovic of Serbia, the top seed, had an easier time, defeating unseeded Russian Anastasia Rodionova 6-0, 6-2 in less than an hour.
(Agencies via Shanghai Daily April 19, 2008)