Som tam, Thailand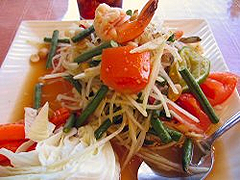 To prepare Thailand's most famous salad, pound garlic and chilies with a mortar and pestle. Toss in tamarind juice, fish sauce, peanuts, dried shrimp, tomatoes, lime juice, sugar cane paste, string beans and a handful of grated green papaya.
Grab a side of sticky rice. Variations include those made with crab (som tam boo) and fermented fish sauce (som tam plah lah), but none matches the flavor and simple beauty of the original.
Chicken rice, Singapore
Often called the "national dish" of Singapore, this steamed or boiled chicken is served atop fragrant oily rice, with sliced cucumber as the token vegetable. Variants include roasted chicken or soy sauce chicken.
The dipping sauces -- premium dark soy sauce, chili with garlic and pounded ginger -- give it that little extra oomph to ensure whenever you're not actually in Singapore eating chicken rice, you're thinking of it.